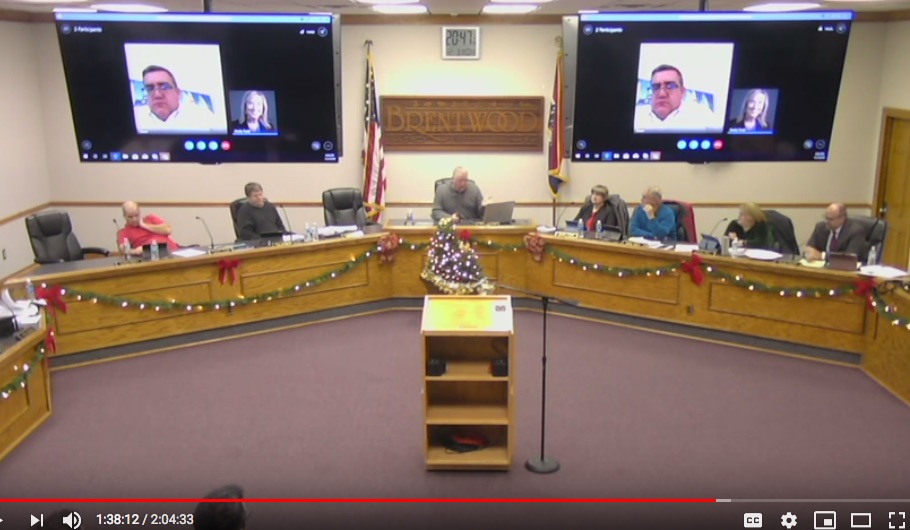 The reading of the warrant list — bills paid by the city — in Brentwood Board of Aldermen meetings doesn't normally raise red flags, but it did at the Dec. 3 meeting when Alderman David Dimmitt, who is also chairman of the ways and means committee, pointed out that Mayor Chris Thornton had made purchases larger than the city code allows without board approval.
It was all related to the city's Brentwood Bound project, to alleviate flooding on Manchester Road between Brentwood Boulevard and Hanley Road.
Thornton said that he was preparing for a meeting of the Brentwood Bound task force and the materials being prepared were good but he needed an 'elevator pitch version, something like the video for Brentwood Days.' He said the public relations firm, Unicom, agreed it was a good idea. So Thornton said 'do it,' he reported in the board meeting.
"Perhaps my mistake, unintentionally, I just said do it. They were working on the video until the day of the workshop, that it was outside the scope — that wasn't the intent. It was the intent to get the work done," he said.
The other instance was a similar situation, he said. He said he had been asked tax questions about Brentwood Bound so he asked Cook & Riley (tax lawyers) to compare sales tax before and after the project and asked if the firm could do it in time for an upcoming board of aldermen meeting, and said they could.
"Again, I never asked for a quote. They never gave me a quote. It was simply information I was looking for to present," he said.
Dimmitt said the total of the two items was about $22,000 – $23,000.
A third item was for about $21,000 for the billboard at the corner of Hanley and Manchester roads.
Dimmitt said, "…as I read the code, those decisions, to spend that kind of money, needs to come to the board, and if the board is going to be involved then we need to be involved. We should not be cut out of this process." Though he said he appreciates the timeliness of things.
"I'm torn because I don't want to slow things down, but I want to make sure we're abiding by the city's code and we're not just giving to one person the ability to spend this certificate of participation money. That's the board's responsibility — our job is to provide oversight, and that is by code delegated to us," he said.
Alderman Brandon Wegge said there has to have some ability to make decisions, but also to have oversight. "How do we balance need to make decisions quickly?"
Thornton said in the case of the billboard, he knew he was violating the policy, "but in order to lock it up, knowing there was time available to undo the doing, I acted. I hoped the board would want me to act.
"Though in the case of the other two, I can tell you it never entered my mind. I can tell you if I have to investigate every time, I'm just not going to make those phone calls, and that's, I hope, not good for anybody." But he said he also agrees completely with Dimmit, saying: "A policy that is violated inconsistently is no policy at all, and that's bad policy."
Reported from the city's YouTube channel.