Chick-fil-A will be on the next Brentwood Planning and Zoning agenda, Mayor Pat Kelly said Friday in his monthly coffee with residents. The new franchise plans to be at the current Romano's Macaroni Grill site (8590 Eager Road). Brentwood City Administrator Bola Akande confirmed Monday that the city is "aware of the company's tentative plan."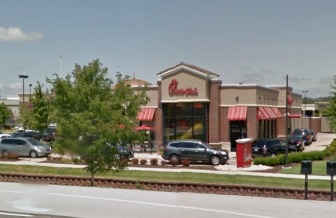 Kelly said a representative of the developer met with the city Monday morning.
Chick-fil-A will be leasing the property from Macaroni Grill. A new Chick-fil-A will be built at the location. Kelly said the deal has already been done between Chick-fil-A and Macaroni Grill.
Kelly said an average Chick-fil-A brings in about $3 million a year, which is 25 percent more than Macaroni Grill. He said that's amazing for a fast food restaurant, when the average ticket is about $7.
Subscribe to the 40 South News daily newsletter.
Macaroni Grill is currently open. When called, an employee hadn't heard when it might close. The Creve Coeur location closed in October 2013.