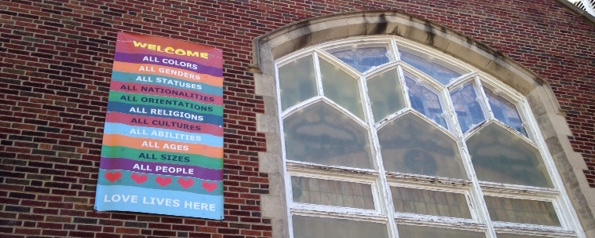 A man from Poplar Bluff, Missouri, an illegal immigrant, has been staying at Christ Church in Maplewood for a little over a month.
Immigration and Customs Enforcement (ICE) has an internal policy that states officers will not enter a place of worship to execute an order.
The church had been working with local advocate agencies that work with immigrants, its pastor, Rev. Rebecca Turner said Thursday. One of the agencies called them about month ago and asked if they would take an immigrant into sanctuary.
"We felt like we had been building toward that moment. I felt like we had to say yes," Turner said. "Alex (Garcia) is an incredibly good human being. He's a loving husband and father. He deserves every bit of support we can give to him."
He and his wife have been married for 10 years and have five children. The marriage didn't give Garcia legal citizenship because he moved to the United States illegally. He also can't apply for citizenship because he was caught trying to cross the border in 2000, according to KFVS News.
"From what I understand it's been a few decades since a church in St. Louis has taken an immigrant into sanctuary, Turner said. "I won't be surprised if the need becomes much greater once it's learned that we've taken this action."
She said a coalition of churches, synagogues and clergy people are supporting the effort, and more continue to offer help.
"We're not hiding him. We're giving him sanctuary until the correct ICE official issues a stay of removal. That's all we're asking for. And let him go back home to his family. Until that time he will be here," she said.
"Surely our country is not about the business of tearing out families apart," Turner said. His kids need him. What has it come to if that's what we're doing? His wife is a citizen. His five children are citizens. They need him."