The Maplewood Design and Review Board met Wednesday to discuss requests for commercial alterations and new signs, and residential alterations.
The city clerk said some of the signs are for existing businesses being renamed.
Toasty Subs is being renamed to Yummi Tummi. It was the result of more than 200 customer votes for the name in a poll. Expect to see the new sign in a couple of months.
From the board's agenda: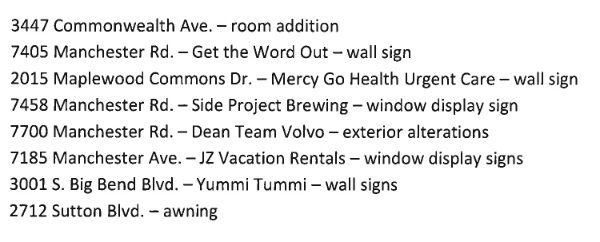 Get the Word Out, 7405 Manchester Road, is an existing business
Mercy Go Health Urgent Care, 2015 Maplewood Commons Drive, is a new business
Side Project Brewing, 7458 Manchester Road, is an existing business
Toasty Subs, 3001 S. Big Bend Boulevard, is renaming to Yummi Tummi
JZ Properties, 7185 Manchester Avenue, is renaming to JZ Vacation rentals
See also: Maplewood officials vote on short term rental, urgent care center