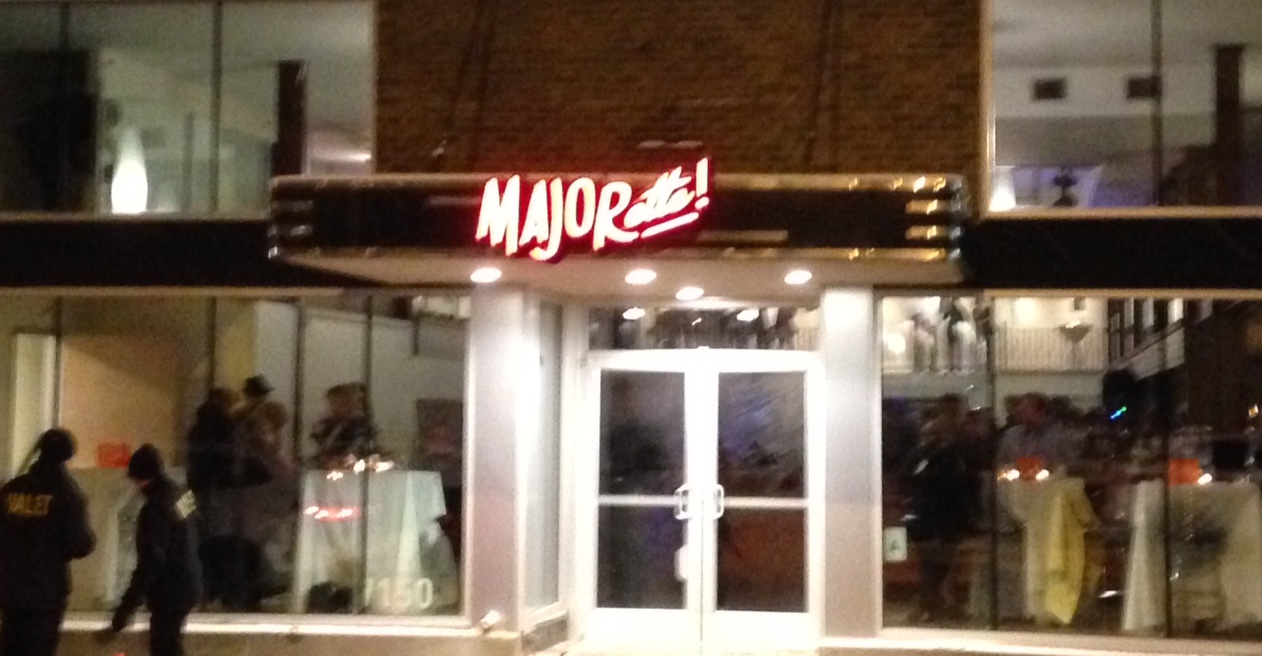 Majorette, a new event space located at 7150 Manchester on the border of Maplewood and St. Louis, held its grand opening Wednesday night with fanfare. The 87-year-old building was originally a furniture store, and owners Pat and Carol Shuchard preserved some of the original features while dramatically modernizing the space which has a capacity of up to 400.
Before the opening, General Manager Erinn Hall reported that they have contracts for nearly 30 weddings, corporate galas, and fundraisers. Also the general manager of the Shuchard's other event space Boo Cat in St. Louis, Hall says Maplewood is the perfect location for their new space.
"Maplewood is a community that is being revitalized. They are taking these old, tired buildings and using them for new restaurants and other businesses. I think it's perfect for that age group of people who are looking for something non-traditional. They are paying for their own weddings, they're young professionals. They want something a little unexpected and even a little peculiar and interesting. Maplewood is the perfect area for it," she said.
Boo Cat, which the Shuchards opened in 2014 in the historic St. Louis Artist's Guild on Union Boulevard in St. Louis, is a smaller space with a capacity closer to 250. Marjorette, also located in a renovated historic building, has a distinctively modern flair. Notably preserved, however, is the original mezzanine which served as furniture display area in the original 1928 furniture store.
"The mezzanine has room for ten tops plus room for an aisle, so it's perfect for dining," Hall said.
For the opening, caterers including Sugarbelle Cakery, Salt & Smoke, and Russo's provided a taste of what they offer for events in the space. And the award-winning Maplewood Richmond Heights High School Jazz Band performed hits. Business Development Manager of Citizen's National Bank of Greater St. Louis (financiers of the space remodel) Christy Byrd assisted Hall with bringing the band in for the event. "The original idea was to have a marching band with a majorette to go with the name of the space. Even though MRH doesn't have a marching band, this group is great!"
Photos by Tanya Yatzeck