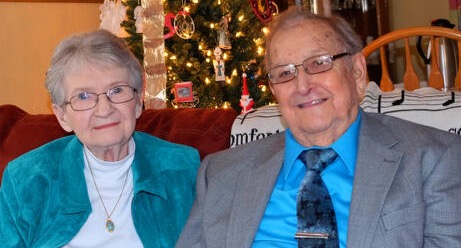 Bill, Billy, Will Jones, our premier memoirist, searched his memory bank and was able to withdraw another new/old Maplewood tale just in time for Christmas.  I hope you enjoy his:
1939 Christmas at Harper's Drugs
In November, Alice Harper taught me to gift wrap our large display of "Evening in Paris" perfume and cologne products.  She insisted perfection in the results and we first did about a half-dozen "dummy displays" using empty boxes from the pharmacy but really beautiful gift "samples" for display.  The "For My One and Only" combination looked beautiful.
Our doctor from upstairs came down and carefully examined each Evening in Paris" selection.  He picked out the most expensive set marked to "My One and Only".  He said, "Wrap four of them in blue paper and bows."  Alice stopped me when he said "Make all four alike."  Alice held her hand over my mouth.  She whispered, "He knows they are all the same."
The doctor said, "Put them on my account and have Billy put the big box in my med supplies closet behind my desk upstairs."  I understood because all his patients were very attractive ladies. Alice called the warehouse the next day–the doctor might need more!
Billy Jones
That one leaves me smiling, Bill.  We should always remember that these are typed by his wife, Barbara.  And she can spell, too.  Thanks to both of you.  Merry Christmas to everyone.  DH