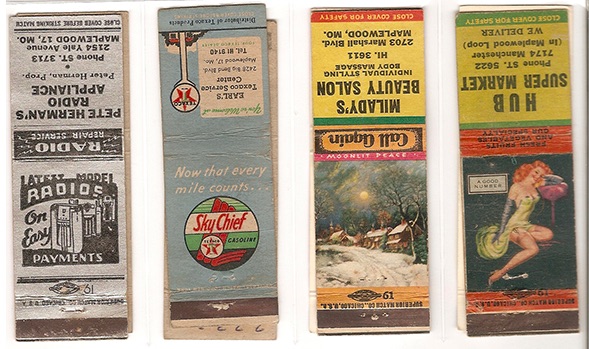 According to my meticulous record keeping (Translation: If my camera didn't do some of this stuff automatically I would have no idea when some of these events occurred). I got a call from Gene Kitson in early 2007 who was wondering if I had any Maplewood matchbook covers. When I said I did not. He said, "Well, I do. Would you like to borrow them?" I said I would and I did.
I went to his home and he handed me his 18 page ( I just counted the photos) album and let me walk out the door with it.  Pretty remarkable considering that he didn't know me. Nearly all of those pages had eight matchbook covers in their plastic pockets.  I have no idea how long it would take to fill an 18 page album with Maplewood matchbook covers but I suspect it would take quite a while.
It turns out that was Gene's strategy for increasing the size of his collection.  He didn't only collect matchbook covers from Maplewood. He had covers from all over.  He claimed that by loaning an album to an interested party they would remember his act of kindness and contribute to his collection when they found a cover he might be interested in.  Had I found any Maplewood matchbook covers or any covers at all I certainly would have given them to him. But that was 11 years ago and I haven't found any yet.
I should mention that he didn't save any of the matches themselves which I believe was not only sensible but probably lowered the cost of his home insurance. At the time I thought it was sort of strange that certain folks would collect these covers. But I have since found quite a few of them  to be very interesting in ways I couldn't have predicted. And I'm not just talking about the ones from Ed's Tavern with the pinup girls. Have a look at the following photos and you'll get the idea or maybe an idea. When you do let me know what it is.
See also: Maplewood History: A Hunk, A Hunk of Burning… Hobby? Part 2