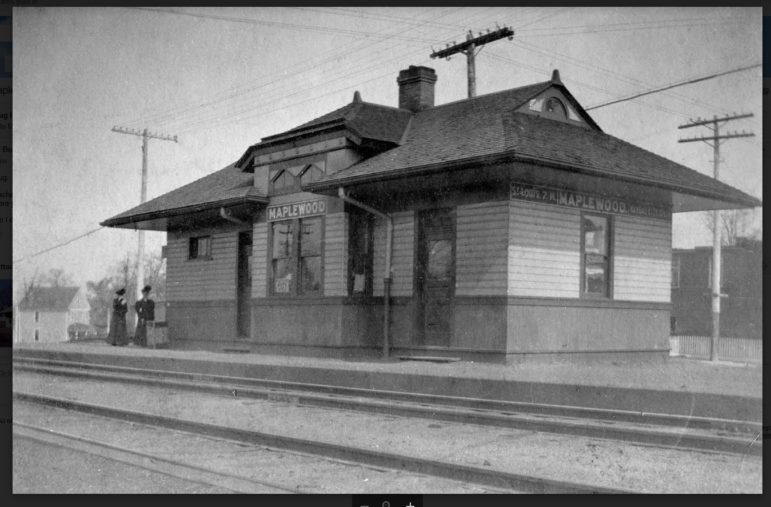 When I first started digging in the dusty piles of Maplewood history I had no clear idea of what I was after and certainly no idea at all of where the search might eventually take me.  I was just helping to put together a physical display for our fledgling historical society.  I dug through a lot of records and then later retained a dim memory of reading about certain things or events without actually remembering exactly where I had seen the information.
One of those foggy, dream-like memories had to do with the Maplewood Depot. Old maps show that the building was once on the Greenwood side of the tracks.  The only photos I had found show it on the Arbor side. Many Maplewoodians know where it was because the stone wall and stairs that once led to the depot still exist where Marshall, Arbor and Maple end at Canterbury.   One might conclude that an earlier depot had been demolished and a new one built opposite it.  But my dim memory seemed to recall that the building itself had once been moved from the Greenwood side of the tracks to the Arbor side.
I can now say that is indeed what happened.  Thanks to some most excellent research by Luke Havel who has located the article in the Post-Dispatch that specifically describes this event. Not only did he find the article he managed to locate an image of what was our second depot in its original location.  This has been something of a holy grail for me.  It is very exciting to have this gap filled.
Our first depot (called Sutton) was located just west of where Sutton crosses the railroad tracks.  I have never found a photo of it either but I have a line drawing of it in 1885.  This leaves just one more station image to be discovered.  Laclede Station.  The namesake of Laclede Station Road.  The new holy grail.  Have at it, Luke.