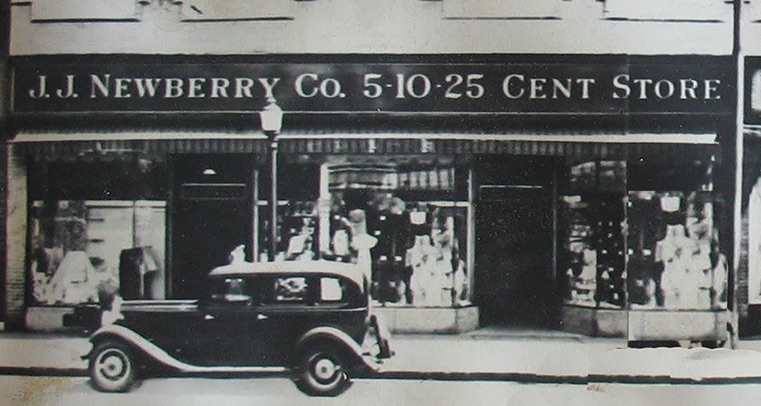 Last post reader Michelle lamented that she had seen a lot of old Maplewood photos but strangely enough none of the images were of J.J.Newberry's or Woolworth's 5 and 10 Cent stores. Then she asked the question, "Doug?"
OK, Michelle, I'll admit I don't think I've run any images of those two stores.  Not on this blog anyhow.  I put a couple of Woolworth- themed photos in "the First 100 years, Maplewood MO" (The title of the 2008 book co-authored by Joyce Cheney and myself contains no typos, blame the cover designer.) So I will run those photos again here for those of you who are not lucky enough to have one of the 1,000+ copies that have been sold and will someday soon be available again through our C of C.
Also, Michelle you are doubly lucky because the well-known and highly regarded Maplewood memoirist Billy Jones somehow channeled this effort and unsolicited provided the following manuscript.
Music and Maplewood – 1935
We had Newberry's and Woolworth Dime Stores at Sutton across Manchester from our "Bank of Maplewood". My sister, Dorothy, would take me to Newberry's Dime Store where a lady played the piano with all new sheet music songs My sister was a good pianist and the lady would have her play often.
Dorothy played a number herself and I tried to sing with her–it was fun!  Dorothy asked, "Billy, what did you do with your nickel allowance daddy gave you Sunday?" I said, "I have plans for that nickel!" Dorothy said, "I have two nickels and with your nickel we can buy this music!"  She played "Red Sails in the Sunset" one more time and I began to pick up the words from a copy of her sheet music. Dorothy said, "Uncle Buddy will love this tune." Dorothy was 8 years older than I was so when she handed me her two nickels, I dug mine out of my shoe and paid for the sheet music.
We sang together every day and my sister made a musician out of her baby brother. I didn't know this was for life. I thought it was for fun only.
My sister took the streetcars daily to McKinley High School from Maplewood and her class was presenting  the HMS Pinafore operetta. She sat me on the top of our upright piano and played for me. Dorothy said she was a contralto. I said, "I'm not going to tell Dad you're not a Baptist anymore!" Dorothy laughed and said, "That means I sing the low parts with the chorus. You can sing the high parts and I can practice my contralto to harmonize." I said, "Whoa–I sing the same words you sing but higher?" She laughed and said, "They are the same words over and over. The star singer sings and then we other girls sing 'And so does her sisters and her cousins and her aunts' over and over with me singing the low part and you singing the high part." I said, "I'll try, but don't fuss if I'm no good."
We did this each day for weeks and the night my folks took us to the McKinley High HMS Pinafore presentation was great. My sister introduced me to her girl friends and they picked me up and said, "Here's Dorothy's opera singing little brother!" On our way home, I asked my sister not to ever do that again (but, in my older years, I secretly was proud to have helped).
I'm still happily remembering my childhood with my sister and I am still singing.
Billy Jones
You sure are, Billy.  You're singing to all of us now. DH