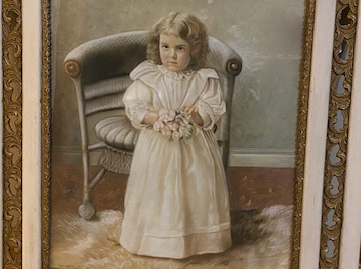 Now for something completely different.
Recently a man contacted me who has a portrait of Gertrude Harper for sale.  He bought it at a thrift shop sometime ago. Now he is looking for another home for it.  The price is $20 which seems reasonable.
Gertrude Harper was the daughter of Dr. Cape and his wife Alice.  She married Bill Harper of Harper's Pharmacy.
It is too bad that we have nowhere in the community to preserve items such as this photograph when they become available.
If you want to know more about the Harpers you can do so here.
https://40southnews.com/maplewood-history-in-memory-of-alice-harper-a-short-history-of-harpers-pharmacy/
This image was most likely commissioned by Dr. Cape or his wife, Alice. If you'd like to know more about Dr. Cape, read this.
https://40southnews.com/maplewood-history-cape-koester-and-our-first-city-hall/
This is a bonafide artifact from Maplewood's past.  And it's only 20 bucks.
If you want to contact the owner of the photo I'll be happy to connect you.
Doug Houser         December 2, 2022