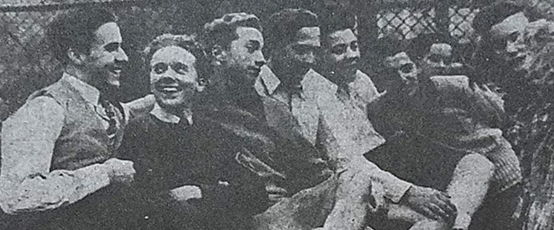 Thinking back to my own high school years which all fell in the 1960's, those were some pretty rough times.  Kids are cruel to each other.  If you had the typical teenage short sightedness which I certainly did, it can be tough to see past it.
I hadn't realized it until I started thinking about this latest information from our memoirist, Bill Jones, but back then regardless of age the women always wore skirts and dresses.  I think.  Just coming off of this bitter cold spell a dress code such as that seems remarkably unfair.
I'm happy to report that we've made a lot of progress since then.  Just like many other struggles, the freedom to wear whatever you want was begun by a small group of activists.  These brave females chose to make their statement in 1941.  20+ years later they still hadn't won that battle.  Now they have.   I salute these forward thinking ladies of Maplewood.
*You might realize that this article isn't really about gender confusion.  I'm still trying to create titles that will outpoint Miner's.  Doug Houser
Maplewood Richmond Heights High – 1941
Our young ladies decided they would "prefer" wearing jeans to class. This is seven decades ago.  We had no rules at our school about this matter so a couple of lady students started the movement– more joined in the following weeks.
Our high school jocks decided to join the "movement" after they asked Principal Vossbrink about it. He shrugged and replied, "We do not have a rule against this matter."
The following week, Bob Rollins, one of the leaders and ten other "jocks" came in wearing
skirts.
The school spilled out on the east side of the school onto Martini Drive.  Mayor Frank Martini and our Police Chief showed up with flashing lights (no sirens). Girls in jeans–boys in skirts! The boys rocked Mayor Martini's police car from side to side with
about a dozen boys helping.
Mayor Martini turned off the police car lights and "politely" stood
in front of the car and "politely" asked the fifty students to go back to school. He told them THEY were on city property. The students complied and they all showed up the next day in their usual skirts and trousers. Their only words were "We made our statements" and Mr. Vossbrink went on vacation!
I was an underclassman and distanced myself from the entire "no winner" incident. I was a Harper's Drug Store "soda jerk" after school and an honor student (no skirt).
Billy Jones