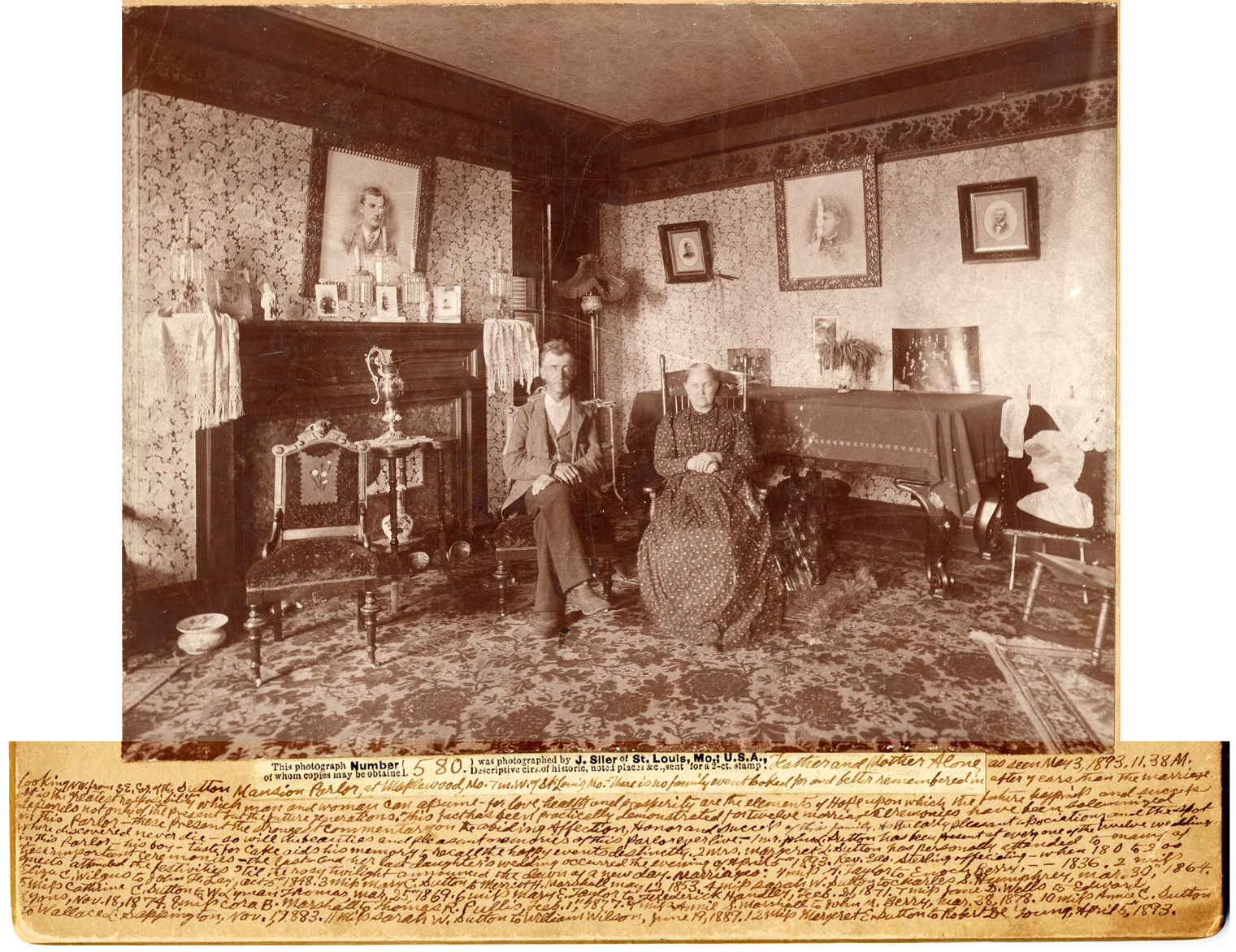 In this post I would like to feature just one very interesting photograph.  It is of John L. Sutton, son of James and his wife, Margaret in the parlor of the Sutton Mansion that once sat on the site of todays, Dobb's Tire service.
In my mind this photo perfectly illustrates the problem facing those of us interested in history.  There is just so darn much of it.
I was kindly allowed to copy this photo for our collection by the State of Missouri Historical Society-Research Center-St. Louis on the campus at UMSL, adjacent to the Mercantile Library, Zelli Fischetti presiding.
I have copied the writing at the bottom of the photograph and will post it immediately below the photograph space permitting.  Keep in mind this is from just one photo.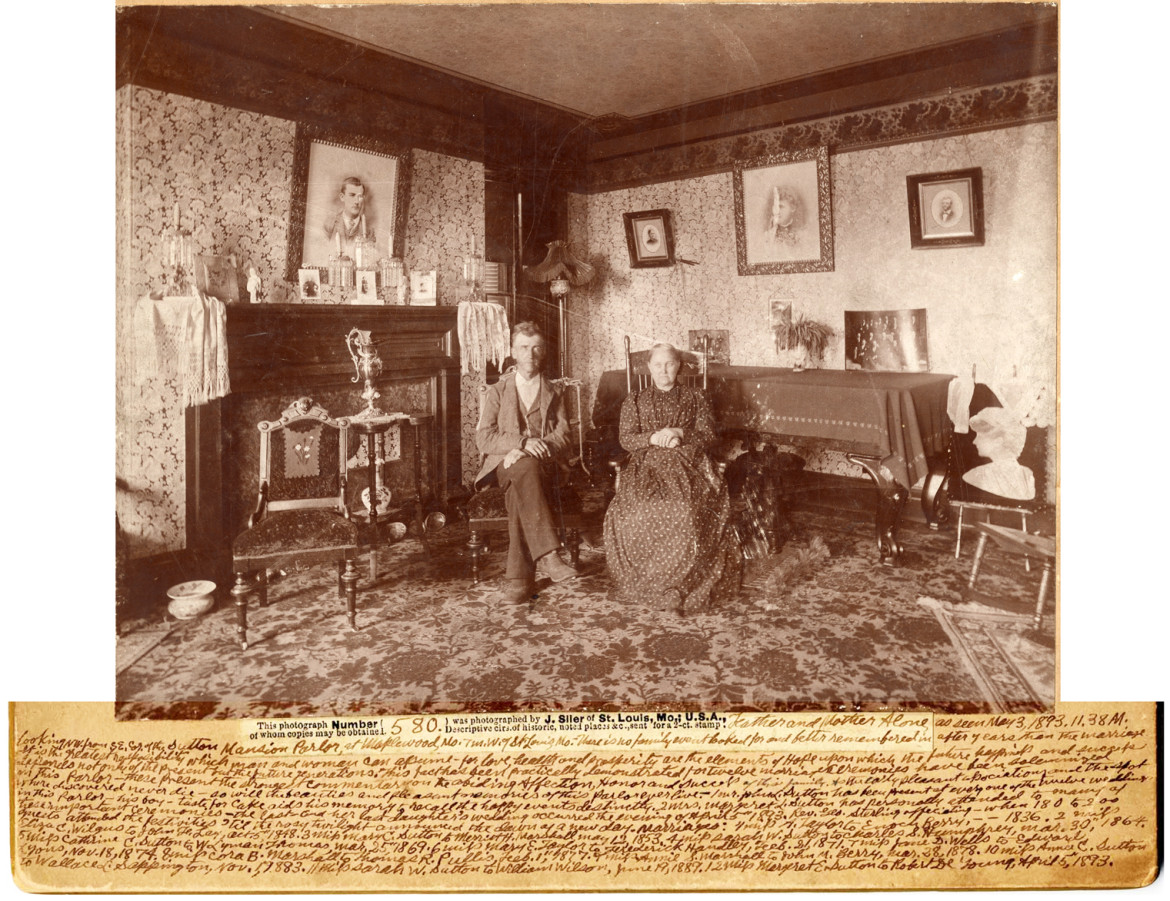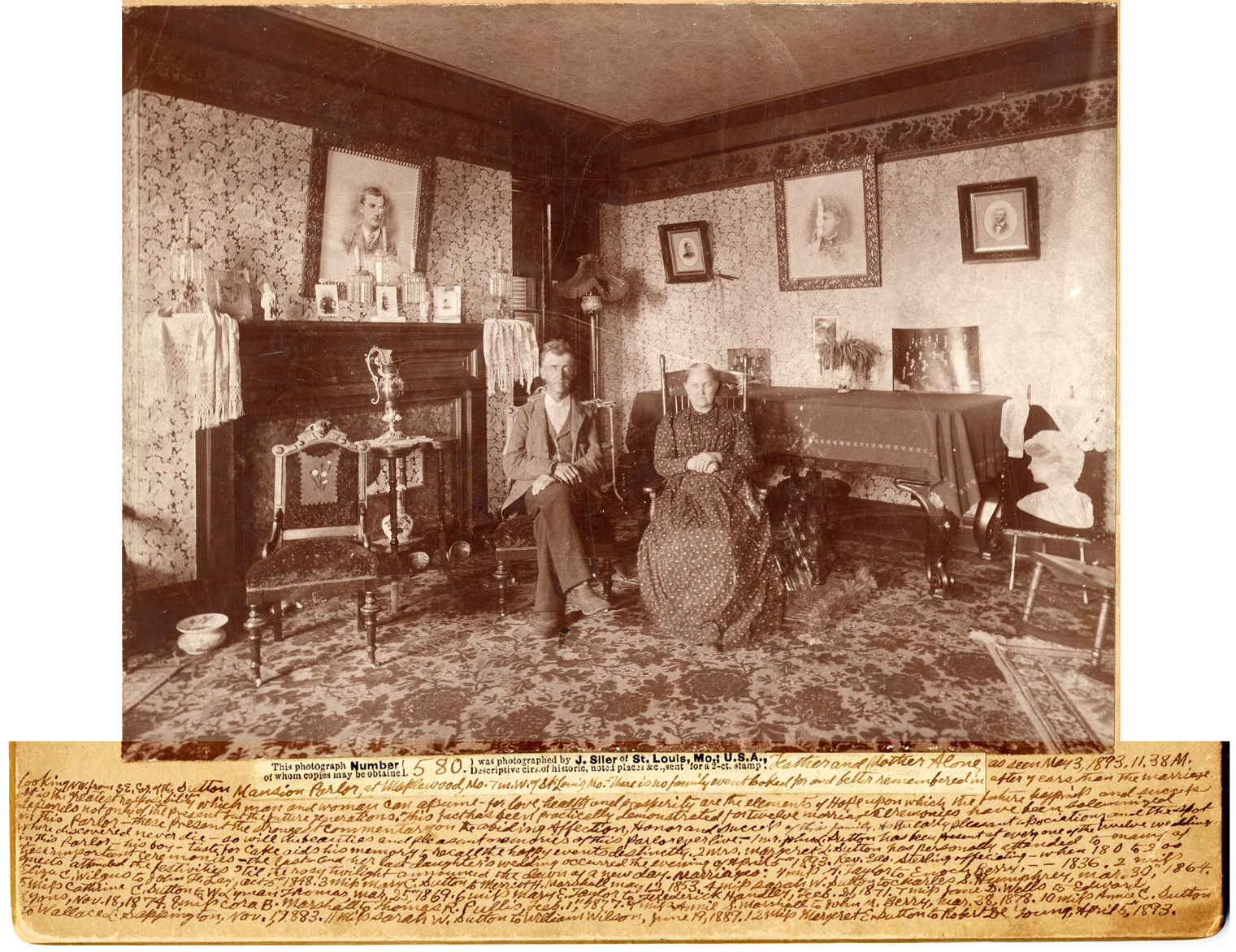 Sutton Parlor photo inscription
This photograph Number (580) was photographed by J.Siler of St. Louis, Mo,; U.S.A., of whom copies may be obtained.  Descriptive cirs. (?) of historic, noted places, & c., sent for a 2-ct. stamp.
What follows was written in longhand:
Father and Mother Alone as seen at May 3, 1893. 11.38 (A)M.  Looking NW from the SE cor. of the Sutton Mansion Parlor in Maplewood, Mo. 7m.w. of St. Louis, Mo. There is no family event hoped (?) for and better remembered in after years than the marriage.  It is the greatest responsibility which man and woman can assume-for love, health, and prosperity are the elements of Hope upon which the future happiness and success depends not only of the present but the future generations.  This fact has been practically demonstrated for twelve marriage ceremonies have been solemnized in this parlor.  These presant (sic) the strongest commentary of the abiding Affection, Honor, and Success of this family.  As the earthly (early?) pleasant associations and the spot where discovered never die-so will the beauties and pleasant sundries of this parlor ever live. Mr. John L. Sutton has been present at every one of the twelve weddings in this parlor.  His boy-taste for cake aids his memory to recall the happy events distinctly. 2 Mrs. Margaret L. Sutton has personally attended to many of these important ceremonies-the last-and her last daughter's wedding occurred the evening of April 5, 1893.  Rev. Geo. Sterling officiating- when 180-200 guests attended the festivities 'til the rosy twilight announced the dawn of a new day.  Marriages: (Illegible) A. Taylor to Enoch Berry,–1836.  2 Miss Eliza C. Wilgus to John L. Lay, Oct. 5"1848. 3 Miss Mary C. Sutton to Merritt H. Marshall, May 12, 1853.  4 Miss Sarah W. Sutton to Charles S. Humphreys, Mar. 30",1864. 5 Miss Catherine C. Sutton to W. Lyman Thomas, Mar. 25", 1869.  6 Miss Mary E. Taylor to (possibly L.) Frederick Handler, Feb. 21, 1871.  7 Miss Jane D. Wells to Edward Lyons, Nov. 18, 1874. 8 Miss Cora B. Marshall to Thomas R. Pullis, Feb. 1", 1877.  9 Miss Annie S. Marshall to John M. Berry, Mar. 28, 1878.  10 Miss Annie(?) C. Sutton to Wallace L. Sappington, Nov. 1, 1883.  11 Miss Sarah W. Sutton to William Wilson, June 19, 1889.  12 Miss Margaret E. Sutton to Robert DeYoung, April 5", 1893.