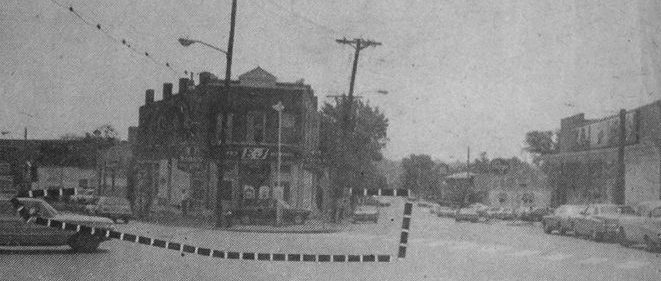 If you've been following the action here at Maplewood History you already know that Jim Fischer, whose family had early connections to Maplewood, gifted us with a good-sized box of  crumbling, brown newspapers and other items that had once belonged to his parents.  
He also threw in a small box of interesting old pamphlets that have nothing at all to do with Maplewood.  They once belonged to a neighbor.  I'll have to get her story from Jim once more. I'll post some of the more interesting of those possibly under a title such as, "Completely Unrelated Stuff Found While Looking for Maplewood History".
Among some of the stuff that is related in Jim's box is the following article that was published in the St. Louis County Observer on Wednesday July 25, 1973.  This is the article we've been looking for.  It drives the final nail into the coffin of our historic building known as "The Wedge".  This article makes it clear that the demolition of the Wedge on Friday, July 27, 1973 kicked off the destruction derby that cost us the northern half of the 7300 block of Manchester and some fine buildings on the south side too.
Though this original redevelopment plan eventually collapsed, another was created which resulted in the construction of the much reviled parking garage crowned by a K Mart store.  It took Shop'N'Save to get rid of that mess which is one reason why those of us who remember the K Mart debacle are so content with S'N'S.  Another reason is that the folks that work there are very nice and the place is always spotlessly clean. I even get my flu shots there.  So far, no flu.