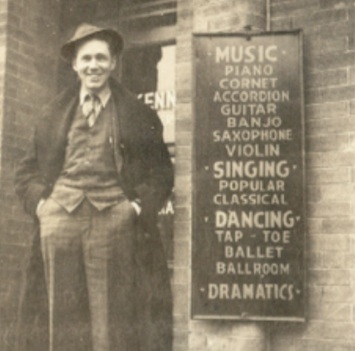 Sunday, December 7, 1-3 p.m., Wanda Kennedy Kuntz is holding a book release and signing party at The Book House in Maplewood (7352 Manchester Road). Wanda has published a historical novel about her parents' store, Kennedy Music, An Historical Novel based on the Kennedy Family, Maplewood MO.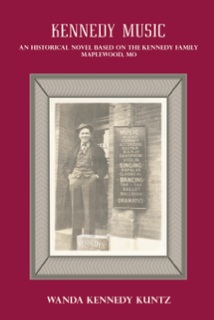 She is offering a free signed copy of her book to the first person to answer one of these questions about Maplewood's past.
To receive the book you need to include your name, and attend the book signing party on Dec. 7 at The Book House. Only one book per person.
Here's the questions – the answer is added if a question has been correctly answered. Let someone else have a turn if your name is below with a question.

What was the name of the nice 'date' restaurant centrally located on Manchester in Maplewood at least by the mid 1940's and into the late 1960's? Exactly where was it located?  Manchester and Southwest –

How many different Maplewood locations were a home to Kennedy Music school and store, over its 45 years? Where were these locations? Manchester and oak view terr.; Manchester by the loop; Manchester west of Sutton; Manchester by EJ' drug store and last where I believe may have Herman's Toggery location or by it. Donna Ray Bumeter (she got 4 out of 5)

What additional overpass existed to connect Maplewood to the Lindenwood neighborhood in south St. Louis, from 1925 until 1964? The Fyler Avenue bridge, Ray Heinsohn
What was the name of the county newspaper which displayed many local Maplewood ads, with offices on Sutton Avenue? The St. Louis County Observer,

Pat Wilken Maloney



When did Maplewood High School switch to MRH High School, and why? 1951,

Cara Hagelstein



What was the color of the county busses, and of the city busses, many of which did a daily turnaround at the City Limits Loop?

What was the name of Interstate 40/64 back in the day? The Express Highway, Dorothy Autry

Which downtown Maplewood business was a popular place to play pinball way back in 1965? Katz Drug Store, Donna Ray Bumeter

In 1966 where was a great place to buy cheesecake in Maplewood? Sutton Bakery, Dennis

In the 1940's and 50's Maplewood was home to dozens of hat, shoe, dress and men's clothing stores. Name one of each. Dreamland Shoes, Deb Walters

Which residential street is now missing in downtown Maplewood, since the early 1970's? Arthur, Donna Ray Bumeter

Where was the Maplewood Public Library located in 1953? Manchester at Big Bend (near where White Castle is now) Donna Ray Bumeter
What famous vocalist came to Kennedy Music, to sign a few of her recent records and to have publicity photos taken with the Maplewood Kennedy family? Rosemary Clooney, Dorothy (Strange) Kopp

Put your answer in the 'Leave a Reply' of this article, below, with your name to get your free copy of Kennedy Music at the book signing.

Remember, no matter how many questions you answered correctly, you receive ONE free book. The free book will be signed and available for pickup at The Book House December 7. The last remaining questions to be answered:
(question 1) the NAME of the fancy, 'date' restaurant at Manchester and Southwest (and it's not McCoys)
(question 2) address of the 5th location of the music store (OR, what business exists in that location now)
(question 6)  there were TWO colors on the busses circling the Maplewood Loop.  Name the two colors for the City and County busses, and you win a book
(question 6)  there were TWO colors on the busses circling the Maplewood Loop.  Name the two colors for the City and County busses, and you win a book
(question 10)  the first person to name THREE old Maplewood businesses (hat, shoe and dress,) wins a book!
For those of you who remember Kennedy Music, there will be four people present at the signing who worked at the music store — we would love to visit with each of you!  ~ Wanda Kennedy Kuntz