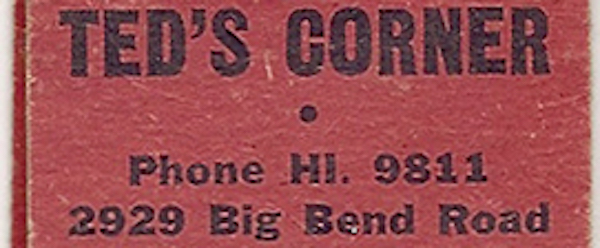 If you're like me and get more emails than you can possibly read, then I want to say in this first sentence if you haven't eaten yet at Toasty Subs, you need to get over there.  I don't know how unusual it is but the menu includes toasty subs and sushi.  This suits my wife and I just fine.  On our recent visits the food has been excellent.  You can find the menu online very easily.  In this post I'd like to tell you about the location.
It is bordered on the Flora Avenue side by one of our many landmark stone walls.  I wonder where the stone in this one came from because it is not the typical white limestone that is found in nearly all of our other stonework.  Additionally it looks to me like the mason/s inserted decorative rocks (I'll call them that because I haven't any idea what their real name is) every so often to either make the wall more interesting or perhaps just to use them up.
This wall once separated a parking lot from the street behind a neighborhood bar and grill called Ted's Corner.  An article from April 1955 in the St. Louis Post-Dispatch identifies the owner of Ted's corner as Ted Lazarcheff.   The article goes on to say that Ted owned this famous eating spot in the Thirties and then later developed it into Ted's Motors which sold DeSoto and Plymouth automobiles.  The article lacks a bit in accuracy.  Apparently, judging from some of the photographs and another article, he owned both of those businesses at the same time.  Ted's Motors was located at 7486 Manchester which was directly across the street from the City Hall at 7483 Manchester.
Ted must have used his Maplewood businesses as a springboard that allowed him to make the leap from his hot grill to become a red hot developer of subdivisions.  In 1955, he was planning a subdivision seven miles east of St. Louis in Centerville, IL.  In February 1959, he posted an advertisement that his company had built five subdivisions, over 700 homes and with 2,000 more in the planning stages!  Way to go, Ted!
I know nothing about Ted's life other than what I could glean from these articles and advertisements.  It appears that he was wildly successful.  He left for whatever comes next on June 16, 1978.  His funeral was (where else?) at Jay B. Smith's here in Maplewood.