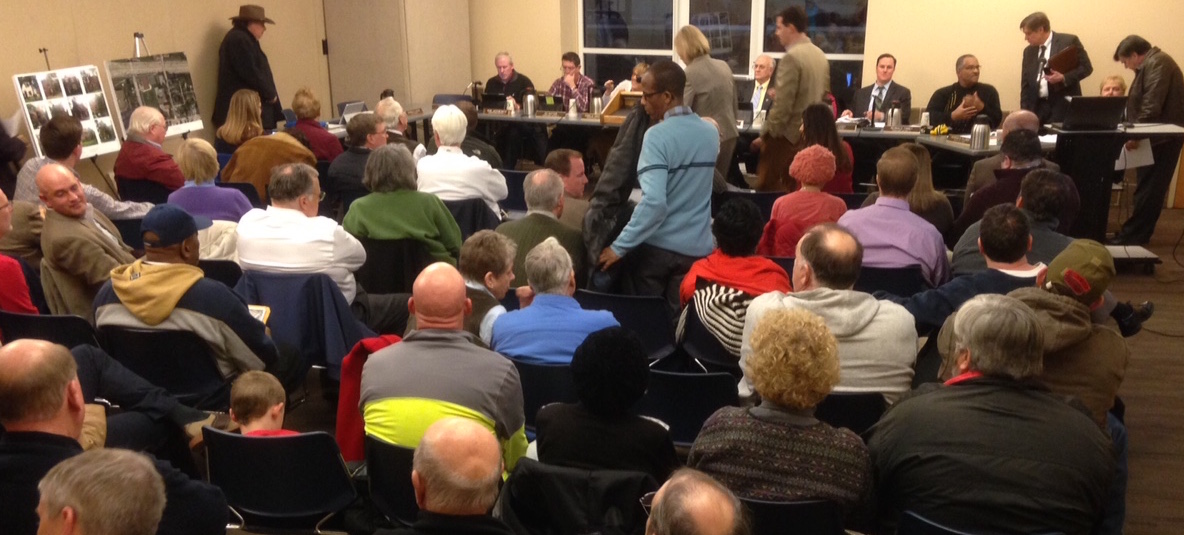 The Richmond Heights City Council Tuesday night gave a formal first reading to a rezoning request and development plan for a proposed 203-unit, upscale apartment complex at the corner of Boland and Dale.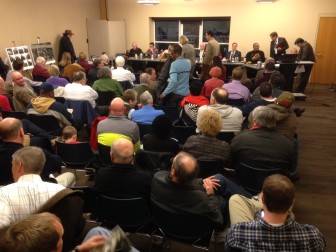 Developer Joe Cyr, who has developed more than $300 million in properties around St. Louis, told the council that the planned $34 million, four-story complex would be typical of a new breed of "class A" boutique apartment properties, designed to attract long-term, upper-income residents with amenities – such as a swimming pool, onsite parking, and a clubhouse with outside kitchen – as well as "Ritz Carlton"-grade services.
However, the council, for the second time, heard more than 90 minutes of objections from residents who say the project is too large for the site, incompatible with surrounding single-family houses and would add to already growing traffic congestion.
"To use an old county expression, it's like a 10 lb. load in a 5 lb. bag" said long-time St. Louis-area development consultant Richard Ward, who was brought in by local residents to help explain their concerns.
A show of hands indicated nearly all of the roughly 75 area residents at the meeting were opposed to the project, with only one speaking in favor of it. The council received a petition, with 125 signatures, opposing the development.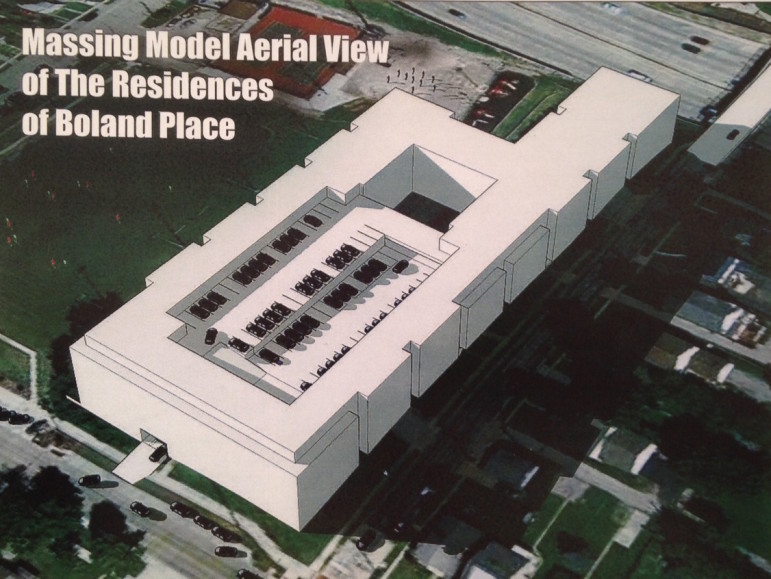 Mayor James Beck reported that attorney and former council member Paul Lore has filed a formal objection to the rezoning – from R-5 to Planned Development – requested for the project.
However, Cyr contends the proposed Boland Place apartment complex will quickly become a valued asset for the community, noting a landmark change in the real estate market nationwide. For a variety of reasons, more Americans are now renters rather than homeowners, he told the council.
The proposed complex is designed to attract a range of affluent, long-range tenants – including young upwardly-mobile college grads, busy mid-career professionals, and "empty nest" retirees – who are increasingly opting for the convenience and luxury of high quality apartment living with almost hotel-style services, Cyr said.
Tenants in the nation's new breed of boutique apartment developments benefit from on-site managers providing concierge-like services, such as accepting daytime parcel deliveries for tenants, according to Michelle Tate of the specialized Philadelphia management firm contracted to run the new complex. Other services include apartment-door-to-car-door snow removal and "predictive" maintenance that makes calls for repairs a rarity, she told the council.
To ensure that caliber of service is maintained – and quality tenants are thereby retained – a minimum of 200 units is required, Cyr said, explaining the complex's controversial high population density.
However, some nearby residents fear the new complex could be part of a luxury apartment "bubble."  At least four new luxury apartment complexes are expected to open within roughly two miles of Boland Place over coming months, noted area resident Derek Bolden. The area could soon be oversaturated with more than 400 new apartment units, he asserted.
That could set the stage for the financial failure of the Boland complex; forcing a sale to new owners or abandonment of the high-end market in favor of student housing or even government subsidized HUD housing for low income individuals, several area resident said.
Cyr countered with marketing research indicating his new complex should be fully occupied in 13 to 24 months. He added that the philosophy behind his real estate development firm, ILI, LCC, is to develop and hold properties as long-term investment. "We are not … developers and flippers," he said.
Even if his firm was forced to sell, Boland Place would be quickly snapped up by a major institutional investor, such as a pension fund or insurance company, which would continue to maintain the building as a high-end complex in order to meet return on investment goals, Cyr said.
Unlike most apartment buildings in the past, boutique apartment developments are considered "institutional" grade investments, suitable for institutional real estate investors that have traditionally financed mostly shopping centers, hotels, and large office buildings, Cyr said.
At least two area residents asked the city hold off on development of the Dale and Bolden property until the condominium market picks up.  Others called for conversion of the former A.B. Green School building to apartments, as has been done with numerous school buildings in the City of St. Louis.
However, Cyr contends the Green School building, closed since 2004, has been repeatedly vandalized and is mold infested, making it unsuitable for redevelopment.  Moreover, not being listed on the National Register of Historic Places, like many of the redeveloped St. Louis schools, the Green School building does not qualify for the tax credits necessary to make redevelopment feasible, Cyr said.
Beyond the size of the proposed building — four stories tall and two football fields long — fears of traffic and parking problems continue to be perhaps the most common concerns cited by area residents.
The complex's four-level parking area would provide some 396 spaces, or 1.85 spaces per unit. That is below the 2.0 spaces generally required by the Richmond Heights building codes for such buildings, but still exceeding the 1.5 spaces required by St. Louis County, the 1.45 required by Clayton and the 1.23 to 1.38 required under nationally recognized industry standards, Cyr said.
A traffic study commissioned by the developer projects building residents would make 1,335 car trips per day, not noticeably affecting traffic counts on nearby street.
However, residents contend the study does not realistically reflect the impact the complex would have on traffic patterns.
Lore asked the council to consider the effect of 300 cars, leaving the apartment complex during "the 8 a.m. rush," would have on Dale Avenue traffic.
Moreover, the increased traffic from the apartment complex must be considered along with the impact of increasing traffic spillover from Hanley Road onto residential streets, several speakers suggested.
Development consultant Ward urged to council to assess the area's traffic flow "in a number of contexts."
Comments on the apartment proposal were taken Tuesday during the second half of a two-part public hearing which began at the council's Jan. 4 meeting.
A second reading of the development and rezoning proposal is set for the council's Feb. 1 meeting.
In other action Tuesday, the council approved issuance for a liquor license to WGR Saint Louis for its new Weber Grill, 1147 Saint Louis Galleria.