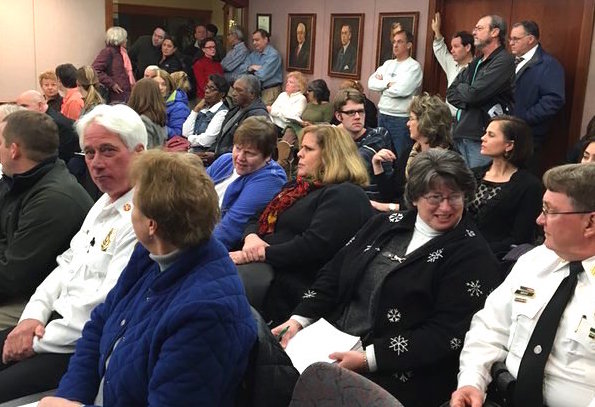 An overflow crowd of Boland Place/Arch Terrace-area residents turned out to express concern Monday night (Jan. 4) as the Richmond Heights City Council prepared to consider a site plan and rezoning ordinance for a proposed 203-unit apartment complex on Boland between Dale Avenue and I-64/U.S.40.
Developer Joe Cyr, of ILI, LLC, and architect Bob Koch, of Fugleberg Koch Architects are not scheduled to present their proposal to the council until its Jan. 19 meeting.
However, about 40 residents came out for Monday's council meeting after learning the site plan appeared on the agenda; prompting Mayor James Beck and the council to begin taking public comment on the project.
During 90 minutes of often detailed presentations, nine speakers contended the apartment complex would clash with the residential neighborhood, snarl traffic, violate zoning regulations and perhaps even fail financially in an increasingly competitive rental market. Several speakers urged the council to be selective in approving any project for the site, noting St. Louis' Central Corridor – including Richmond Heights – has again become a "hot" area for real estate development.
Cyr, though present for the meeting, did not respond to comments.
Mayor Beck promised to accept additional public input on the project, following the formal presentation by the developers at the council's Jan. 19 meeting.
See also: Richmond Heights plan & zoning OKs multi-family proposal, Boland Place apartments traffic study: impact 'relatively small'