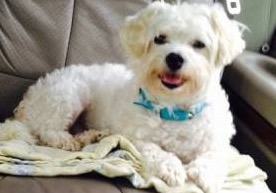 A support dog belonging to a Maplewood man went missing on Thursday, Oct. 5, according to, a neighbor, Jann Henningsen, who is helping the owner find it.
She (the dog, Maddie) is a support dog (not officially certified) for a man who is diabetic and prone to seizures, and accompanies him to his medical appointments to BJC.
The dog, a small poodle, disappeared near Greenwood Boulevard and Commonwealth Avenue in Maplewood at around 6 p.m. on Thursday, Oct. 5.
"She is well known to staff at BJC. The two are inseparable. This dog was wearing a collar with her name, address and phone number. In addition, she has a microchip thus it would not be hard to find the owner. The dog is elderly, deaf and has poor eyesight. As you can imagine her companions are emotionally distraught over her disappearance," Henningsen said.
A $200 reward is offered for the dog's return in a Craigslist ad.