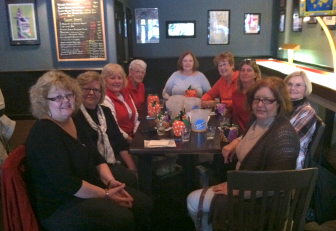 About dozen St. Louis women who's friends might prefer coffee, tea or wine, like something else. Craft beer is their thing.
The St. Louis Ladies Craft Beer Tasting Society meets at a different area brewery on the last Saturday of every month. They're from Kirkwood, St. Charles, Brentwood, Fenton, Richmond Heights, Crestwood, St. Louis city.
They tasted at Heavy Riff Brewing Company, in Dogtown, on Saturday. "We are just craft beer lovers," said Celia Tatom, of Kirkwood.
"We've met some really great brewmasters. Every single one has been open and excited to talk to us." Connie Boyle said. She said they often get a tour.
"At New Haven, the guy couldn't even tear himself away because we were asking him more and more questions," she said. "People tell us history, recipes, they talk about the hops, where they were grown."
Boyle said the brewers are mostly young men. "They must think, 'Oh my God, these old ladies are here. What are they doing?'"
She said they liked Heavy Riff's brown beer the best. (Editor: that would be the "Velvet Underbrown.")
They want to return when more of Heavy Riff's own brews are on tap. "Especially the one with 'candy' in the name," she said.
Boyle said Second Shift in New Haven and Exit Six in Cottleville have been favorites, "but as new places open we are up for the challenge of touring and getting flights to compare beers."