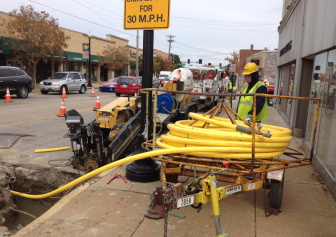 Laclede Gas backhoes seem to be digging holes in every Maplewood street lately—recently in the 7400 block of Manchester Road.
Ray Hill, a Laclede Gas supervisor on the scene in front of John Stricker Auto Repair, said the project began more than a year ago, and couldn't say when it would be finished.
The old cast iron lines are being replaced with plastic all over Maplewood. The new lines will leak less and carry the natural gas at a higher pressure.