Maplewood City Council Tuesday easily approved a liquor license for Cory King to operate The Cellar, a tasting room and retail outlet for Side Project Brewery; barrel-aged beer that he produces at Perennial Artisan Ales, where he's head brewer. The craft beer sells for $15 to $30 a bottle.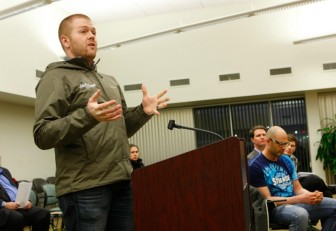 The beer would be sold by the bottle and the glass. King plans on selling a limited amount of whiskey and wine by the glass. He'll also sell Perennial beer.
The location, 7373 Marietta Avenue, is currently gutted, after being used as apartments for many years. King would give no timetable for an opening.
A Marietta Avenue resident who had opposed the operation days before the meeting wasn't there. Bill McDonald, a member of Maplewood Plan and Zoning said he didn't like that the procedure skipped plan and zoning review. He said because of that it should pass the council with five votes. The vote was unanimous, with Ward 3 Councilman Barry Greenberg recusing himself because he's the architect on the project.
King and several others spoke in support of the business.
"Side Project is a really, really interesting and articulate and crafted product and brand that I think would do a lot for Maplewood," Strange Donuts co-owner Corey Smale said.
"There was zero negative," Andy Barnes said, speaking for the 150-member Facebook group, Maplewood YIMBY (Yes In My Back Yard).
King said the space is very small, and though it will have a bar, "is not a place for folks to come and drink a lot." Hours will be 3 to 10 p.m. during the week, and noon to 10 p.m. Friday and Saturday.
"I looked at a lot of other places, and when I finally got to look here, it fit," he said. "I wanted a place that had some foot traffic, but I didn't want Soulard late-night, because I'm not a late-night place. The city has been great. Everything has fallen into place."
King said he's had four releases of Side Project Brewery beer, and each time it sold out in hours. With The Cellar he plans to release beers gradually, to last longer, so lines won't be blocks long. "That's why I'm trying to separate and spread, and make this more manageable because the demand is just crazy high right now."