Just a little while ago, my good friend, Joellen McDonald, the historian of Richmond Heights, forwarded a request.  She had been contacted by James Devine who grew up in Richmond Heights and lived on Hiawatha for 25 years.  James had sent her the following image and was wondering just what it was.
After looking at it for a short time, I realized that it must be a fire tag.  Where I grew up in Jefferson County the nearest fire department was at Shady Valley.  It was staffed by unpaid volunteers.  Since it was not supported by taxes the department had to support itself through the sale of fire tags.  These small tin tags had the year on them so the firefighters could tell if they were current or not.  It was a good idea to nail these tags on your fence or a tree somewhere away from the house.
Woe to the homeowners whose homes caught fire and who had not bought a tag. There were numerous instances where the firefighters let the homes burn because they lacked tags.  I remember one such instance myself. In my very dim memory, which could be wrong, the fire chief of Shady Valley was pilloried for letting a home burn.  This was a fellow who I worked part time for at a gas station.  I have a memory of him being very upset.
In Newspapers.com, I found an account of an instance such as this in High Ridge in 1968.  The location and year jive with my memory.  There was no mention of the Shady Valley fire department. Perhaps they just showed up to assist?  Tempers flared along with the home.  The sheriff's department was called out to keep the peace. The firefighters would not douse the house. The sheriff would not allow any of the bystanders to touch the unused fire equipment. The house burned down.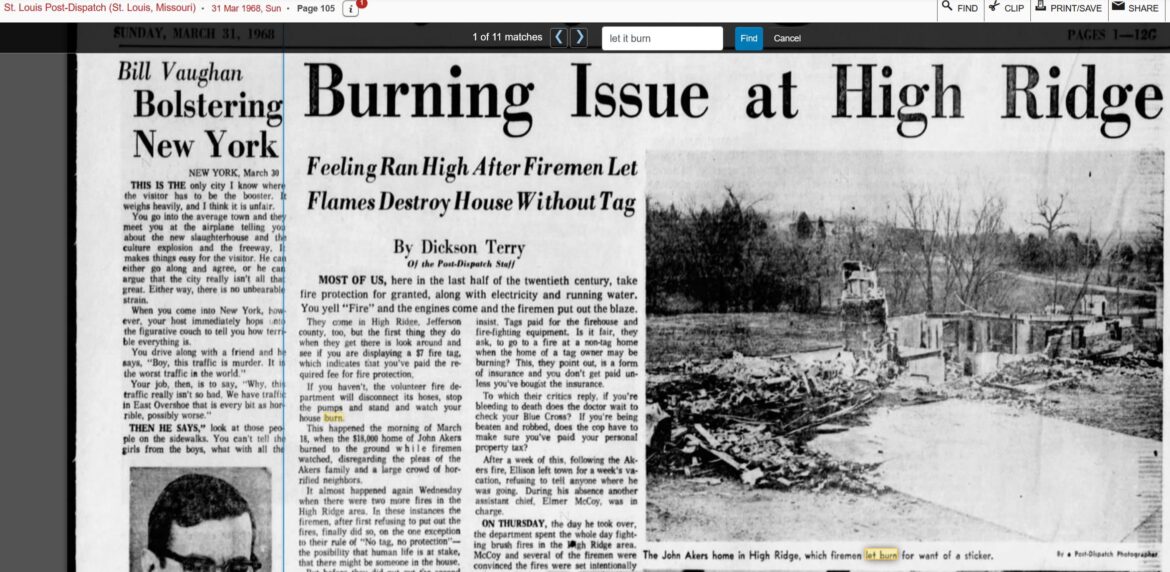 I don't know if we ever had fire tags in Maplewood.  I seem to remember a small tin something in our library's collection.  I'll have to check.  In January of 1908, a devastating fire at the Banner Lumber Company, once located at Sutton and Manchester, hastened the incorporation of our fair city.  This story and many others are covered in The First 100 Years, Maplewood MO.  Copies of the 3rd printing of this classic work are now available once more at the Mid County Chamber of Commerce, serving Maplewood and Richmond Heights, from their headquarters at 7326A Manchester, here in Maplewood.  You might want to call first, 314-781-8588.
Much thanks to Joellen McDonald, James Devine and the St. Louis Post-Dispatch.
Doug Houser    May 7, 2021