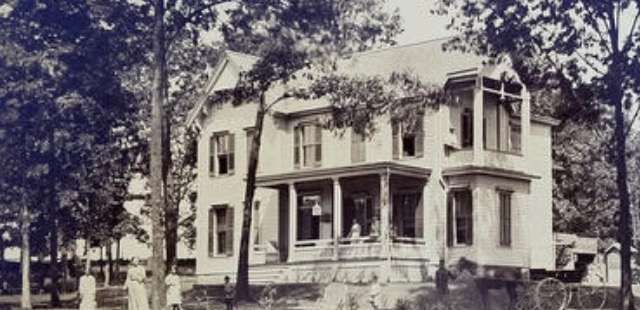 From the feedback I get some of you in the audience seem to be enjoying the forensic examination of these Thomas family artifacts.  I am too. It might be safe to say there is no one who is enjoying this more than me.
I am learning a lot, about our community, about what life was like here in the past and I am learning a lot about the artifacts themselves.
I've been doing this sort of thing for a long time.  First with old houses and old furniture and then with antique woodworking tools.  It is intriguing to take them apart and try to put them back together in better shape than you found them.  With all of these things I try to understand what has happened to them in the past. What should be saved and what should be tossed?
Some of the decisions are difficult. Some are easy. With my home, for example, 40+ years ago it was an easy decision to gut the kitchen and bathroom.  Both had been through some unfortunate remodels that didn't age well. Today with so much interest in mid-century modern stuff, some would probably argue that I should have saved those metal cabinets from the 1940's. But you can't save everything.
With the Thomas family artifacts, mainly the framed photographs and the framed Vic Vac drawing of the Sutton Mansion, I cleaned the frames and the pine board backings thoroughly with only water.  For the glass I used a 50/50 alcohol and water mix. I don't trust any kind of cleaner around old photographs. Even Windex might leave some sort of a residue that could affect the images negatively to my way of thinking.  Then I let everything dry thoroughly before reassembling. We now know because of the disassembly that the photograph of Kate is from 1874, William Lyman's probably is as well. The others may have been made about 1882. 1874 was 154 years ago. Those are old photographs!
All of these Thomas family artifacts had become permeated with coal dust.  Old houses are too as anyone who has worked on them will tell you. It is nasty stuff.  You don't have to fool around with it much to realize that leaving that stuff in the ground is a good idea.  My parents who are in their 90's still recall how bad the pollution from coal was in St. Louis when they were young.  Coal dust would settle on everything even the furniture in your house. Clean coal. Nonsense.
In this post we'll have another look at some of the very interesting discoveries made during the examination of these images. Once again I'd like to thank the Thomas family descendants who have made this possible.