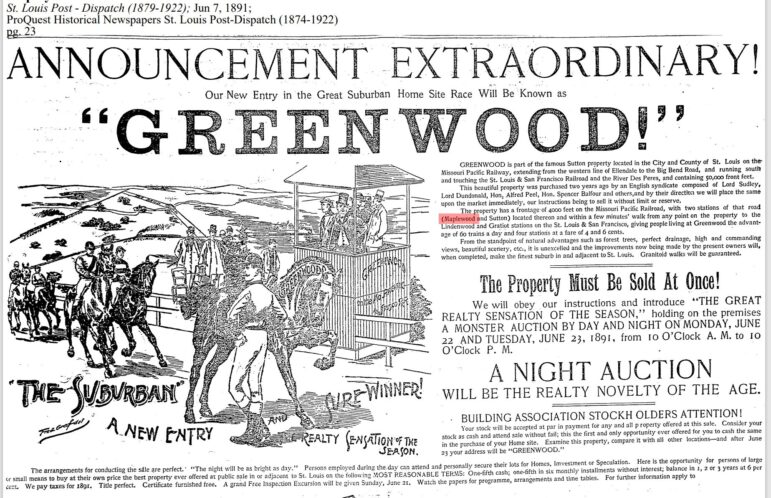 Greenwood, the southernmost subdivision of Maplewood, is wonderfully situated.  Bounded by two railroads and Deer Creek, it is a self-contained neighborhood of tall leafy trees along quiet streets.  It's a good place to take a walk as the architecture is diverse and interesting.  Given that it is 100% developed and surrounded by the barriers mentioned there are unlikely to be any unwelcome incursions of the retail sort that others have had to tolerate given their proximity to some of the major thoroughfares.
With all of those shady streets one might be inclined to think that's where the name Greenwood originated, but that would be wrong.  According to the retired historian of STL County, Esley Hamilton, "By 1891 Langhome Investment and Improvement Company (whose officers included Moses Greenwood Jr. as vice president) reassembled a number of the inherited Sutton tracts into a single parcel and created the Greenwood subdivision." Moses named the tract after himself but an English syndicate may have given the streets their English and European names.
Greenwood, once beautiful farmland and now a neighborhood of peaceful streets, was once home to a character as shady as any of the streets are today.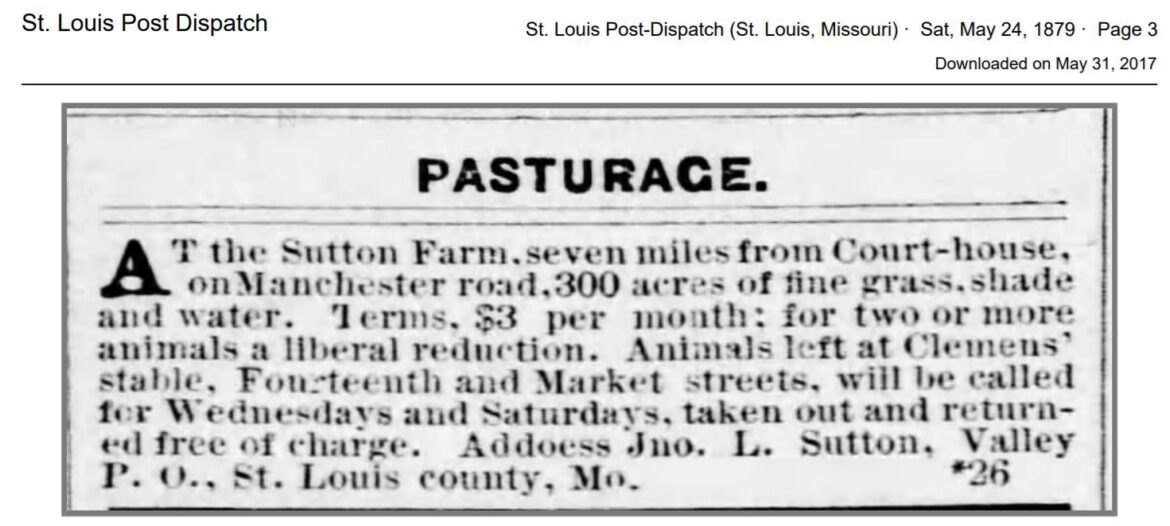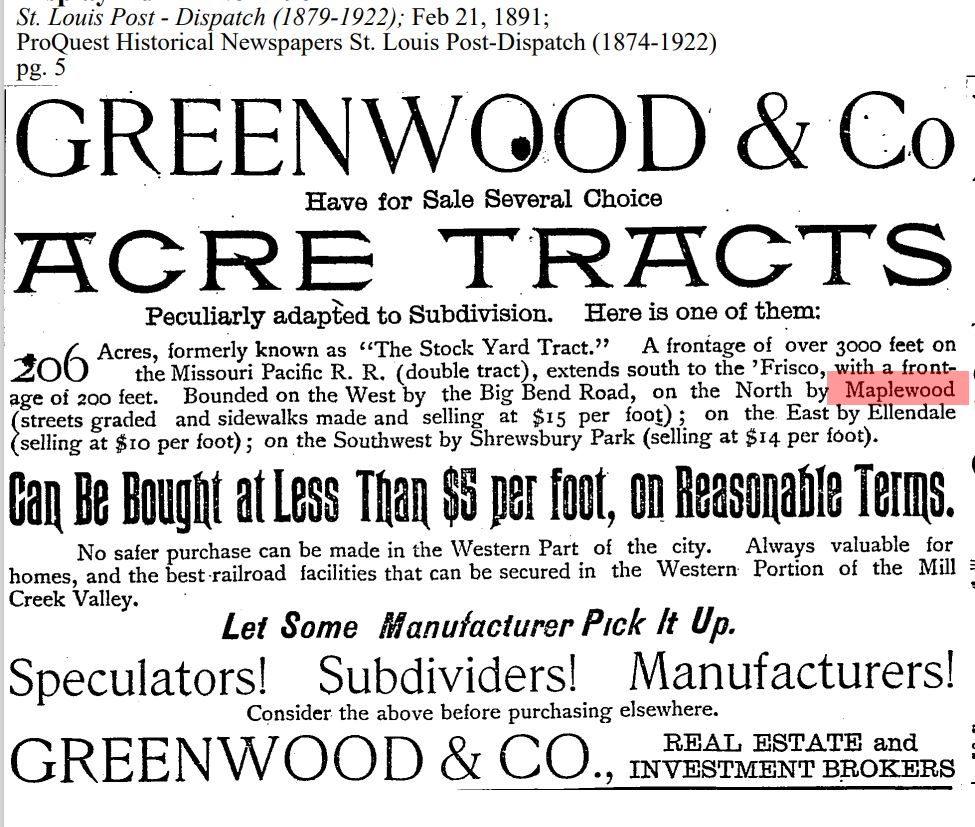 It sure seems that the owners were pulling out all the stops to sell the Greenwood lots in this ad on June 11, 1891.  "60 Trains A Day, It Must Be Sold, Unique and Unparalleled, Only Electric Light Auction of Lots Ever Held On Earth."  Whew!  Notice that "M. (Moses) Greenwood, Jr. Representing English Syndicate" gets recognition at the bottom right.  So how did that auction go?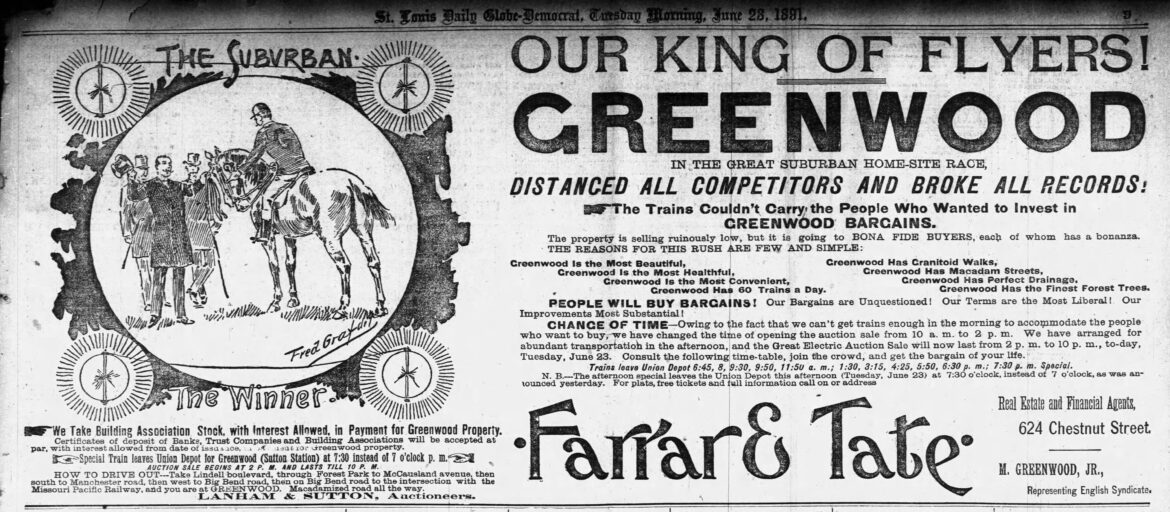 The next evidence that I found that events might not have transpired as we were led to believe in that flurry of 1891 advertisements showed up on September 1, 1901, ten years later.
That sure sounds familiar.  Wait a minute.  " The property known as Greenwood…has been owned for ten years by a syndicate composed of English and American investors…" I thought those guys sold out. "Ten years ago a number of lots were sold…" and "There have been numerous inquiries…but the owners have decided against selling any lots heretofore…"  What?  They had been sitting on this property for ten years?! How much  of it is left?  "…there are over 500 lots to be sold…"  500!!  I didn't think there were that many lots in the Greenwood subdivision.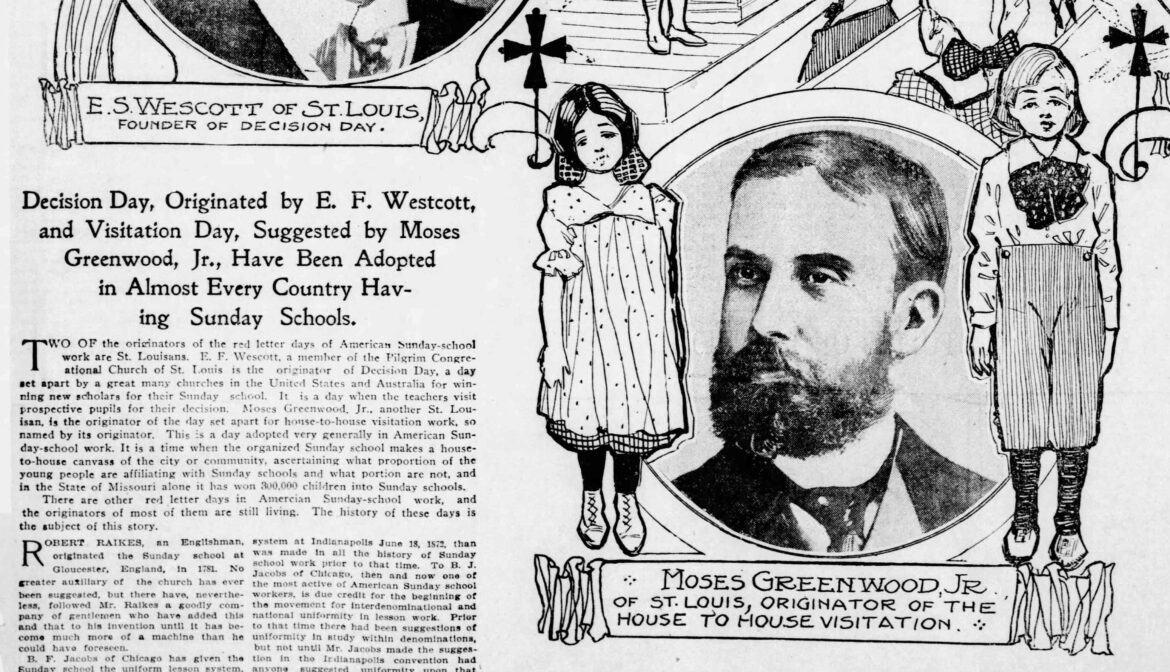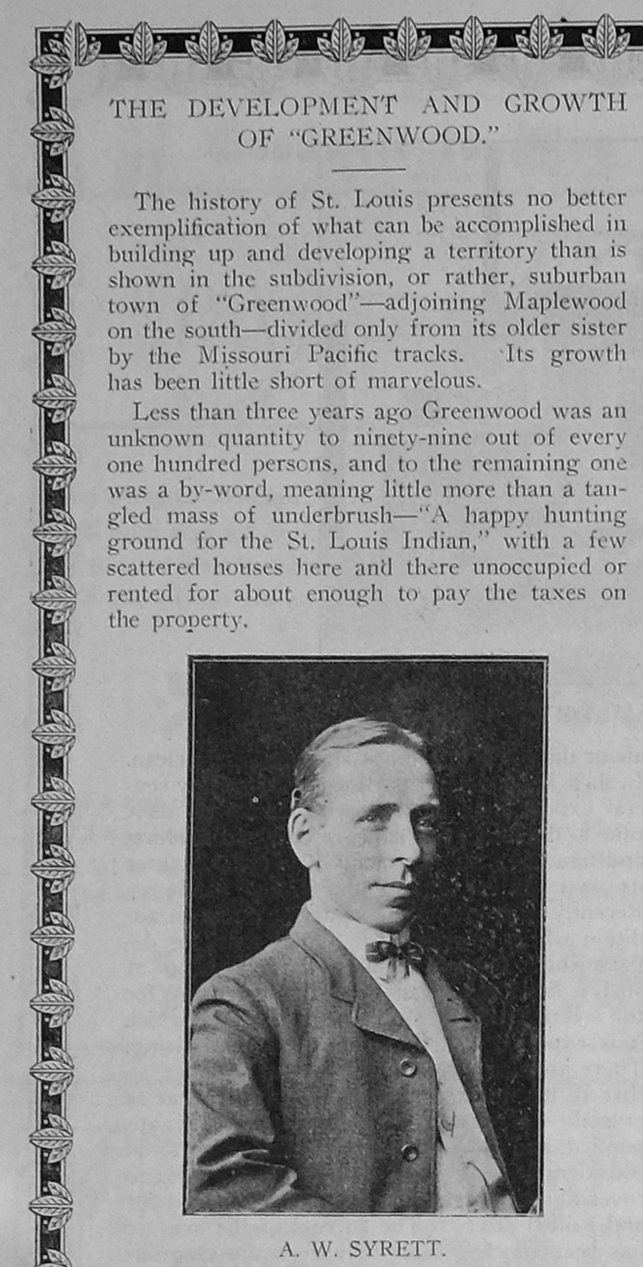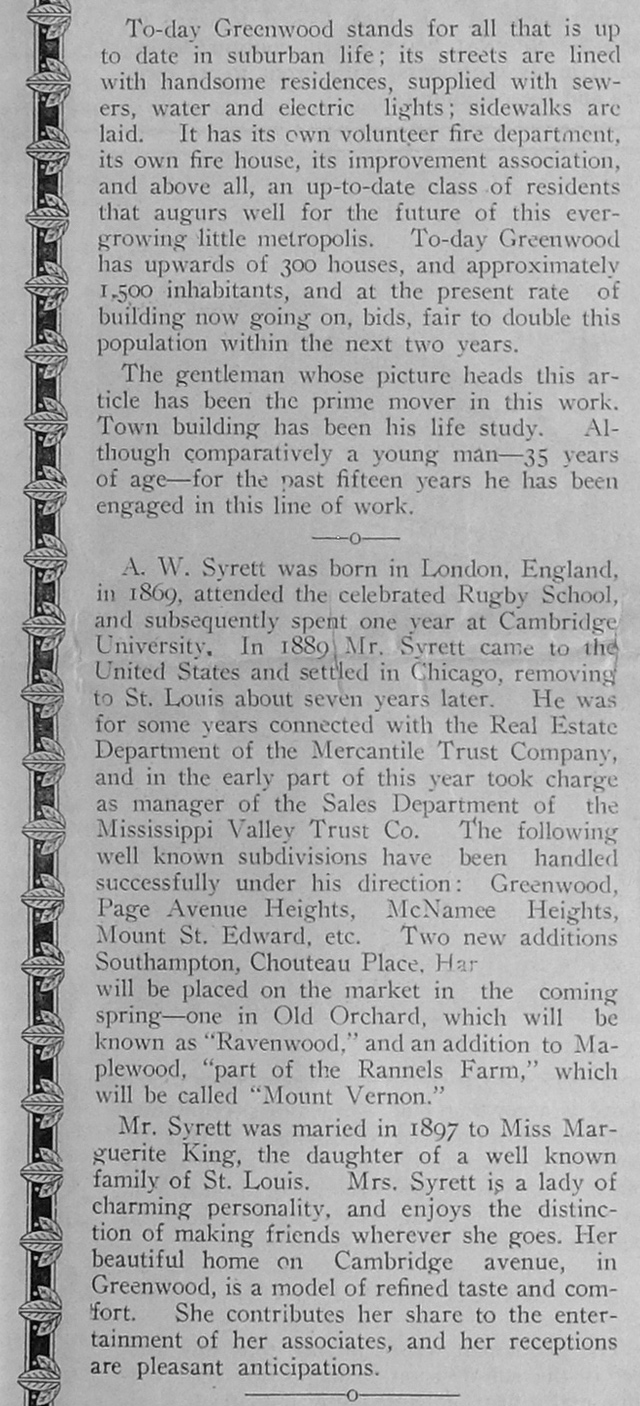 This article is from the 1904 Christmas edition of the Suburban Journal which featured Maplewood exclusively.  Apparently, Mr. A.W. Syrett is the savior of Greenwood.  Curiously the article never mentions his first name, Alfred.  He comes to this project through his connection with the Real Estate Dept. of the Mercantile Trust Co. I suppose this means he was employed by them.  According to this article, "Less than three years ago (about exactly the time of the auction that had been conducted by the Mercantile Trust Co.) Greenwood was…a tangled mass of underbrush…with a few scattered houses here and there unoccupied or rented for about enough to pay the taxes…
However at the time this article was published, Greenwood has 300 homes, 1,500 residents, sewers, water, electric lights, sidewalks, and a firehouse with its own volunteer firemen.  Wow!  Talk about explosive growth.  And the population could double in the next two years.  Amazing.  Mr. Syrett was the prime mover of this miracle of town building.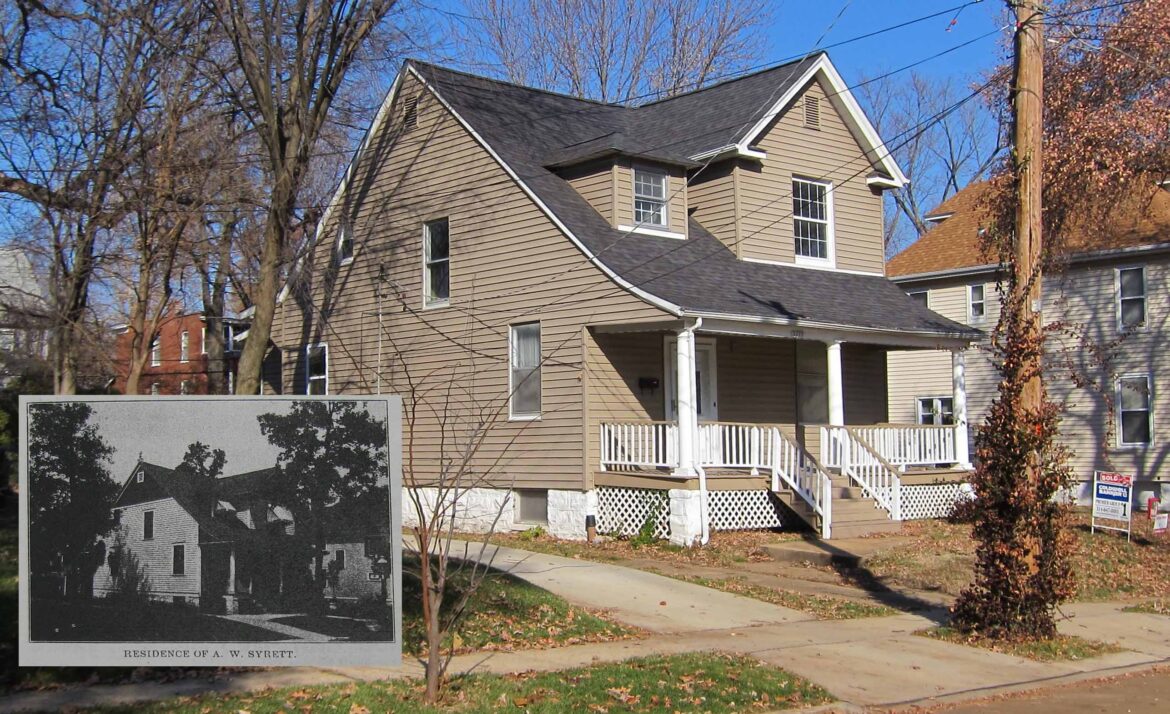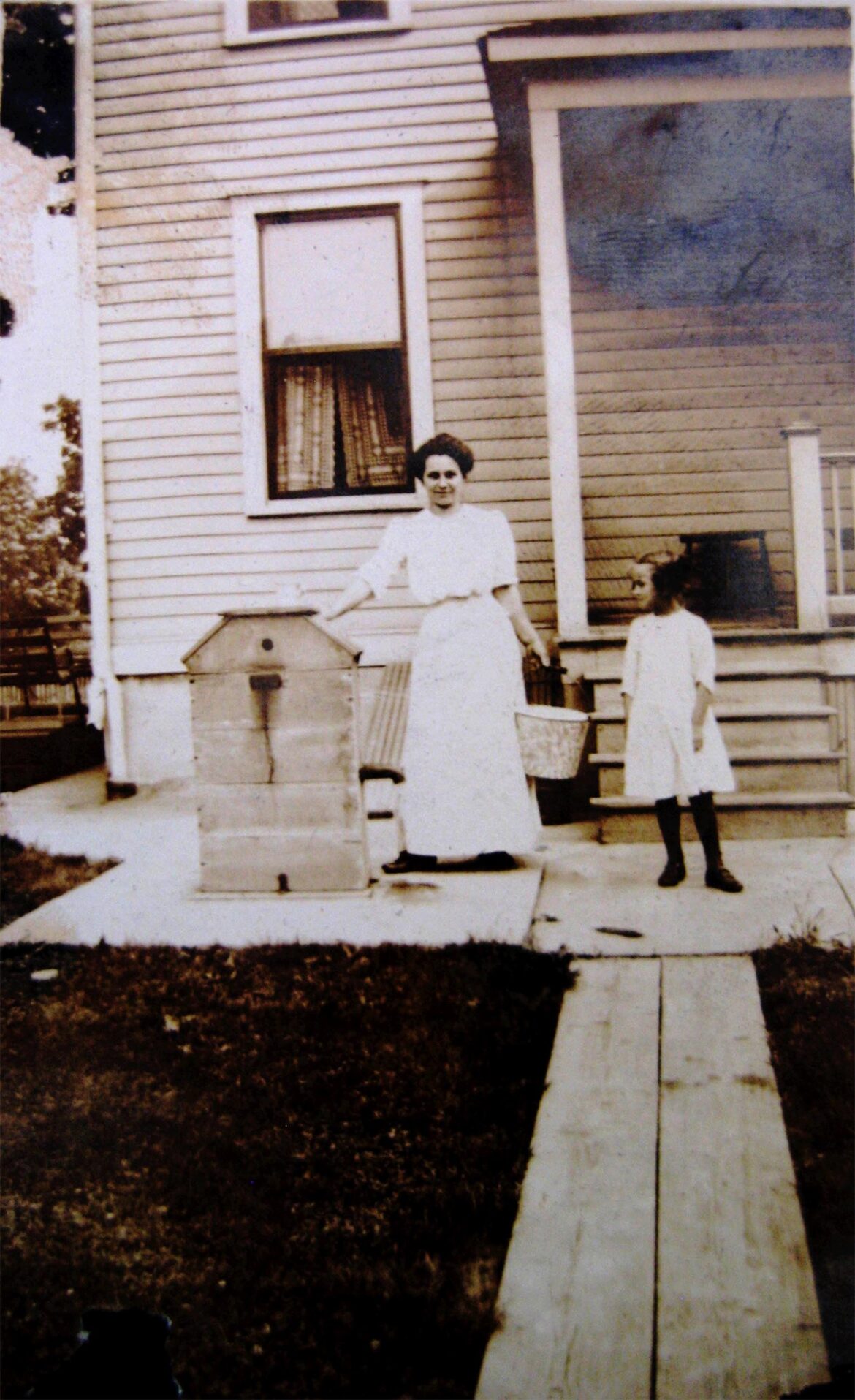 I have a bit more research before I can complete this part of the Greenwood saga.  Some of my regular readers are aware of what comes next.  Sit on it for a few days, will ya?  I'm talkin' to you, Luke Havel, who put me on to it.  Don't spoil it for the rest of the folks who don't yet know what follows in this very interesting story.
I hope everyone is doing well during this pandemic.  The sunshine today provided us a little relief from the cabin fever.  Be smart.  Listen to Dr. Fauci.  Wear your masks.  Two or three of them if you want.  The more the better.
As always, I appreciate your interest in and support of this effort.
Doug Houser    February 4, 2021