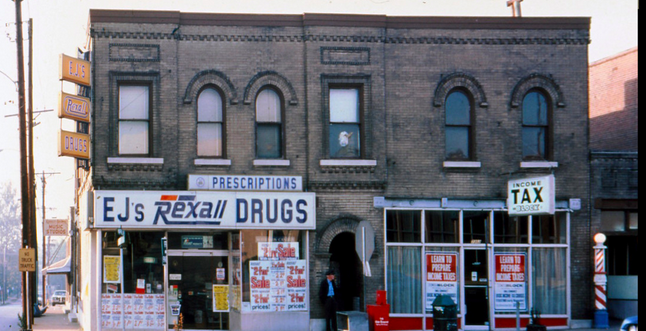 In the 1960's and 70's, the established business model for Maplewood and many older inner-ring suburbs was no longer working.  Streetcars were gone.  Suburban sprawl enabled by the automobile had lured away most of the customers who once supported their retail districts.
In a move to return the Maplewood retail district
to profitability several plans were floated that would make one wince today.  But don't judge these folks too harshly.  They were trying to adapt their communities to this new model and they were desperate.
The first plan led by the president of Citizen's Bank, James Holton, was called "A Return to the Maple Leaf" and would have torn down everything between Manchester and Lohmeyer from Oakview Terrace to Big Bend except the new Citizen's Bank building.  Suburban type stores in a park like setting would replace the original buildings.  But after "The Wedge" and a few homes were razed, outraged citizens launched a referendum and managed to halt the project.
Then another group of citizens started a petition drive to allow a vote on the project and "A Return to the Maple Leaf" was on again.  A short time later following the withdrawal of an important anchor it collapsed for the second and final time.
A few months after this, Mr. Holton and supporters had another slightly smaller plan.  This one which involved bringing a K-Mart store to downtown Maplewood would see completion.
With our benefit of 20/20 hindsight, it is shocking to see what buildings were destroyed.  But I'm certain the folks involved felt that without a new model they could only watch their community sink.
Eminent domain was used to separate small owners from their property in order to make it available for large scale development.  This is still a highly unpopular tactic as we saw during an aborted redevelopment attempt in Maplewood in 2005.
Much has changed since the early 70's.  Many of the urban areas are rebounding.  A couple of new generations value our historic buildings as much as ever.  We can't change the past.  We can insist on the proper preservation of our historic inventory.