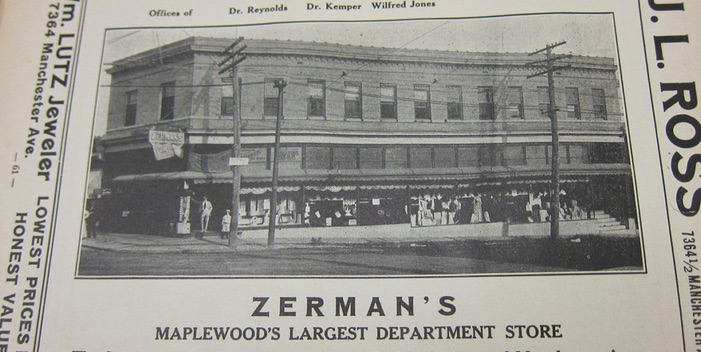 A couple of weeks ago I got an email from reader Meredith.  She said, "I am looking for some historical information on a building. I'm a big fan of the historic Maplewood blog posts and I'm curious about the building at 7376 Manchester, on the SE corner of Manchester and Sutton. Do you have any information on its original purpose or other history of the building throughout the years?
Meredith, I do and here it is.
First I'd suggest that you take a look at this previous post.  It has some information on what was at the SE corner of Manchester and Sutton before the building that you are interested in was there. https://40southnews.com/more-maplewood-history-the-sutton-marshall-connection/
Now that you have read the earlier post the question will be is that building (from the 1909 map) on the corner of Sutton and Marshall the same one that is there today?  I'd have to say that I can't be sure.  Compare the footprint on the map to the aerial photo below.  The building we have today is a trapezoid not a rectangle.  Parts of the original building may still be there and what we see today may be the result of an extensive remodel.
Zerman's Department Store is advertised in the 1912 Maplewood directory as being at 7312-14 Manchester.  That is towards the eastern end of the block.  The business at that address today is Vom Fass.  By 1915, Zerman's had relocated to our building in question.
I was surprised at how much information existed in my digital archive on this one particular building.  I truly doubt if I have this much on any other single building.  Congratulations, Meredith, you picked the right one.
I should also mention that I dimly recall receiving an email from a lady or perhaps a couple of ladies who worked in the building during the tenure of one of the jivers or wailers or perhaps the burlesque show (I can't remember which) wondering if I had any information on paranormal activity there.  Even though I firmly believe that a community can not have too many ghosts I reluctantly answered that I did not.  It seems that several of the folks working there had seen an apparition that resembled a man.  I'd love to find that email.  If anyone reading this has any information regarding this apparition, I'd love to talk to you.