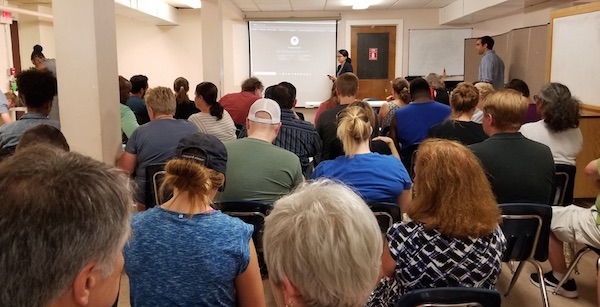 On Wednesday the ACLU Missouri and Equal Housing and Opportunity Council hosted a discussion on on Maplewood's nuisance ordinance laws at the Salvation Army in Maplewood.
The law allows the city to revoke a tenant's occupancy permit for "more than two instances within a 180-day period of incidents of peace disturbance or domestic violence resulting in calls to the police," according to the ordinance, in part.
St. Louis Public Radio, KSDK, KMOV, 550 KTRS and Fox 2 were among the outlets covering the meeting.
A full house joined us to learn about the inequitable impact of Maplewood's #Nuisance Ordinance. Kalila Jackson of the @ehocstl and Sandra Park of the @ACLU share how these laws displace mental health patients, victims of violence, and other vulnerable people. #Maplewood #STL pic.twitter.com/8oy8tpRyns

— Metro St. Louis Equal Housing Opportunity Council (@ehocstl) July 12, 2018
Kalila Jackson kicks off @ehocstl & @aclu_mo meeting on the #Maplewood nuisance ordinance. pic.twitter.com/dXjS1LSZq8

— Charlie Hinderliter (@cmhinderliter) July 11, 2018
Quite a few media outlets at the #Maplewood @ehocstl meeting, including @550KTRS @stlpublicradio @FOX2now and @CaseyNolen of @ksdknews.

— Charlie Hinderliter (@cmhinderliter) July 12, 2018
Kalila Jackson gives a shout out to @STLRealtors for their strong stance in opposition to unconstitutional so-called "crime free housing" ordinances. pic.twitter.com/dPYehfdGZv

— Charlie Hinderliter (@cmhinderliter) July 12, 2018
.@RepMikeButler's proposed legislation addressing this also gets a mention at the @ehocstl meeting. Also, the hash tag for the topic is #NotANuisance.

— Charlie Hinderliter (@cmhinderliter) July 12, 2018
Moving to Maplewood? Applying for an occupancy permit? Learn your rights. @aclu_mo and @ehocstl host a community discussion tomorrow about Maplewood's controversial public nuisance ordinance. https://t.co/G9EVndQGH4 pic.twitter.com/cHLttVDs1p

— St. Louis Public Radio (@stlpublicradio) July 10, 2018
.@sandrapark of the @ACLU talking about the connection between nuisance laws and domestic violence, discussing the example of Lakisha Briggs. pic.twitter.com/sN9D04R74i

— Charlie Hinderliter (@cmhinderliter) July 12, 2018
"I was scared to call for help. Sometimes, I was scared to leave home." Former @ehocstl client, Kathy, shares her story of how Maplewood's Nuisnace Ordinance negatively impacted her. See her story tonight at 6p on @KMOV pic.twitter.com/mFbU5L6g64

— Metro St. Louis Equal Housing Opportunity Council (@ehocstl) July 11, 2018