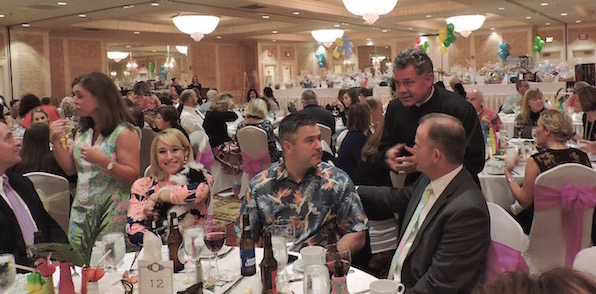 Saint Mary Magdalen Catholic School and Parish was extremely fortunate this weekend to have raised over $100,000 on Saturday and an additional $20,000 on Sunday. The money will be used to both enhance the technology in the school building and replace the school's fifty year old malfunctioning boiler: $70,000 for the boiler and $52,500 for technology.
The parish hosted its annual Dinner Auction last Saturday night at the Frontenac Hilton. Father Jack Siefert asked those in attendance to fund a need for new school technology and alerted the group that a new boiler was needed for the school. He stated the new boiler would cost $100,000, but a generous donation of $50,000 had already been made that morning anonymously. Father Jack would apply for the remaining monies through an emergency grant from the Archdiocese of St. Louis to assist with the cost.
Before the fund a need commenced, the auctioneer announced that the parish needed $40,000 to enhance the technology in the school building. In a short period of time, through the generosity of many, the technology fund quickly grew to $52,500. This technology upgrade is necessary for the school, the Family Faith Formation program, and the Adult Faith development.
Overall the auction was a great success. The participation of the parish in the auction, and in particular the fund a need, was a great example of generosity from those in attendance. Their actions will benefit the parish for years to come.