Goodyear's World's Largest Air Wheel must have been the answer to many a teenage boy's dream.  It certainly would have been to mine.  If I had lived in Maplewood when the Air Wheel visited The Wedge in the early 1930s, I'd have been down there!
A random photo of a twin air wheel showed up on Facebook a couple of days ago.  It put me in mind of the terrific photographs that the late Elmer Wind Jr. shared with us back in 2002 for the very first displays of the Maplewood Historical Society. These were held in some of the empty storefronts on Sutton.
Elmer and the MHS are both gone now.  I am the sole survivor of that effort.  This post contains information about EJ Tire on The Wedge, Route 66, Keller Chevrolet and links to many of my past posts.
Let's start with one of Elmer's images of the Air Wheel.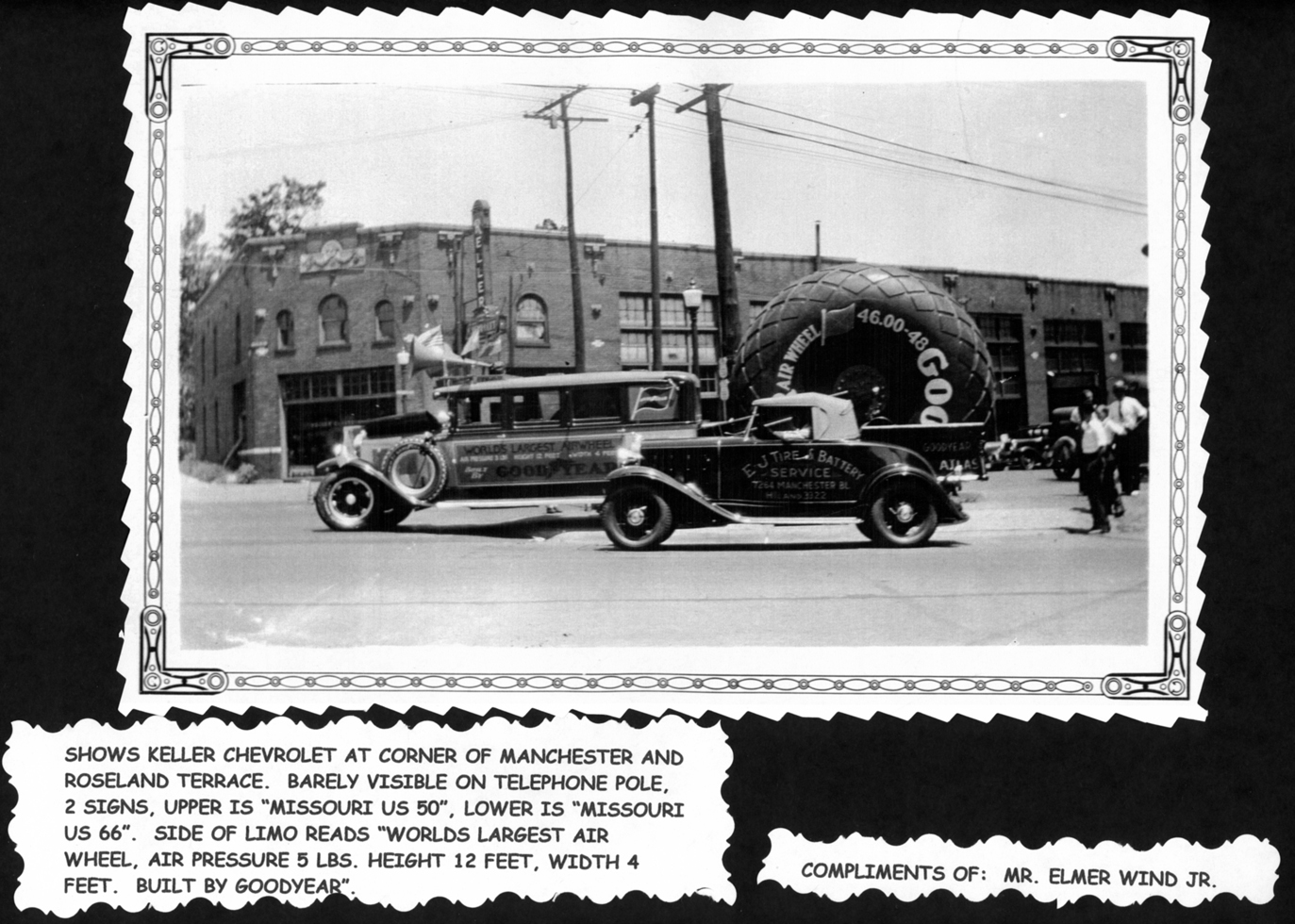 This is a digitized version of the image that was used in our first display.  Very few people had access to the internet in 2002. Most, maybe all, of us involved with this project did not. I copied and enlarged the photographs at Kinko's.
These photos of Elmer's not only allowed us a look at the Air Wheel but provided some interesting views of the now vanished buildings on the Wedge, the triangular-shaped piece of land where Manchester and Southwest intersect.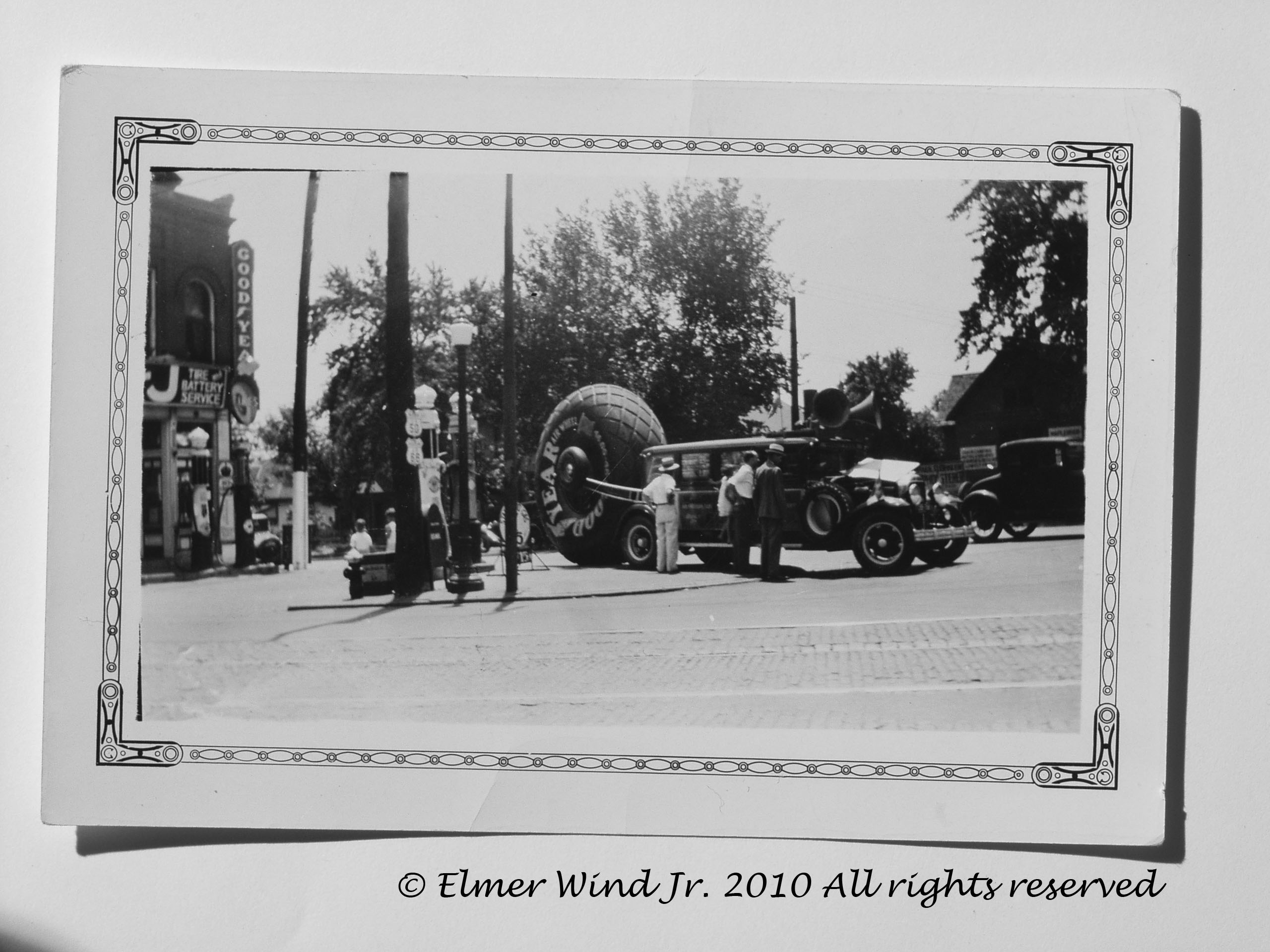 This view of Elmer's was particularly important because it contained one of only two images I have been able to locate that show an original Route 66 sign in Maplewood!  It is on the telephone pole a little left of center.
The Wedge was referred to as such by many Maplewoodians.  The wedge-shaped building that housed EJ Tire for about 50 years had originally been built to be a saloon that was named…are you ready for this? …The Wedge.  Read about it here.
With Elmer's photographs and Photoshop, I was able to put together a composite that lets us have a look at the now partially vanished Reller Chevrolet building in its prime.  I have not yet found an image of the entire facade. This is it.

The Reller Chevrolet building was 10 bays long.  That's a very long building!  Additionally in this image we have a view of the facade and the south side of the building known as the Wedge on the property that would still be called that long after the building was gone.  Elmer Wind, Jr. was born upstairs in that building.
This next image is another composite to help the viewer understand just how much of the original building still exists.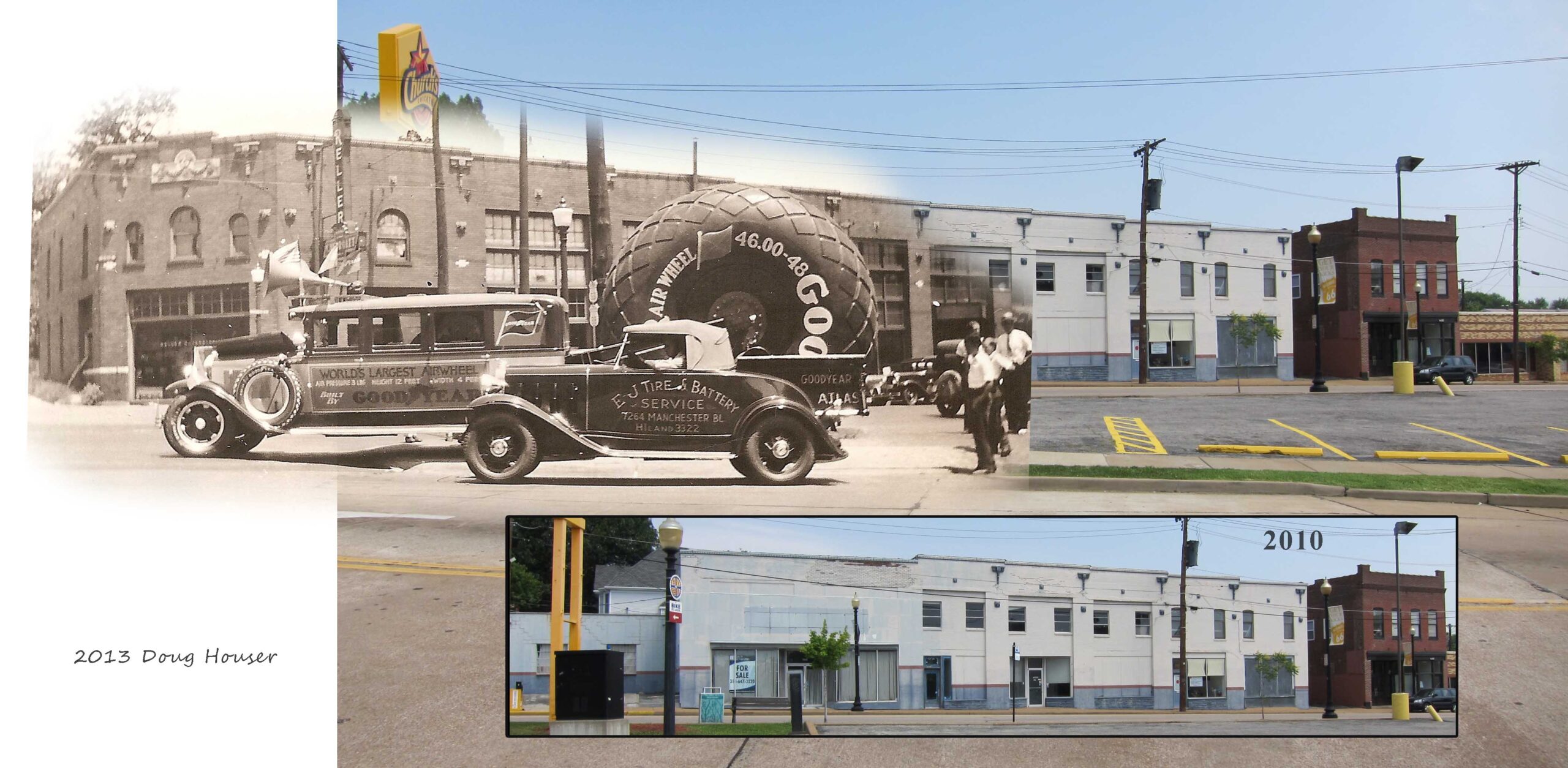 If you would like to know more about Reller Chevrolet, Route 66 and EJ Tire, here is a link.
Elmer was just one of many of authentic Maplewoodians that I was fortunate to get to know.  His was a distinct personality.  It was his complaints to me that we were not doing anything to capitalize on our location on "the original Route 66" that led to the inclusion of that information on all of our streetlight banners.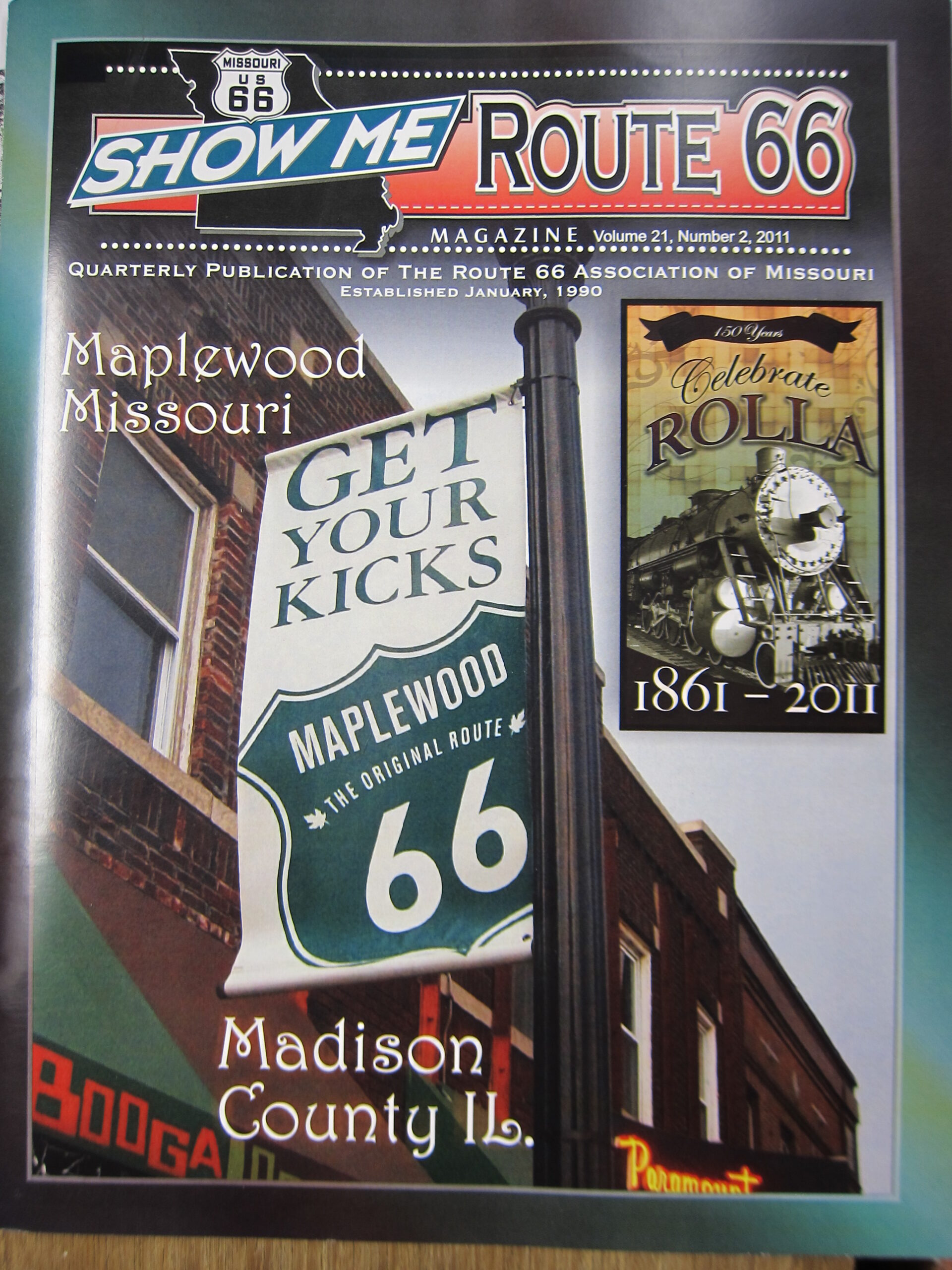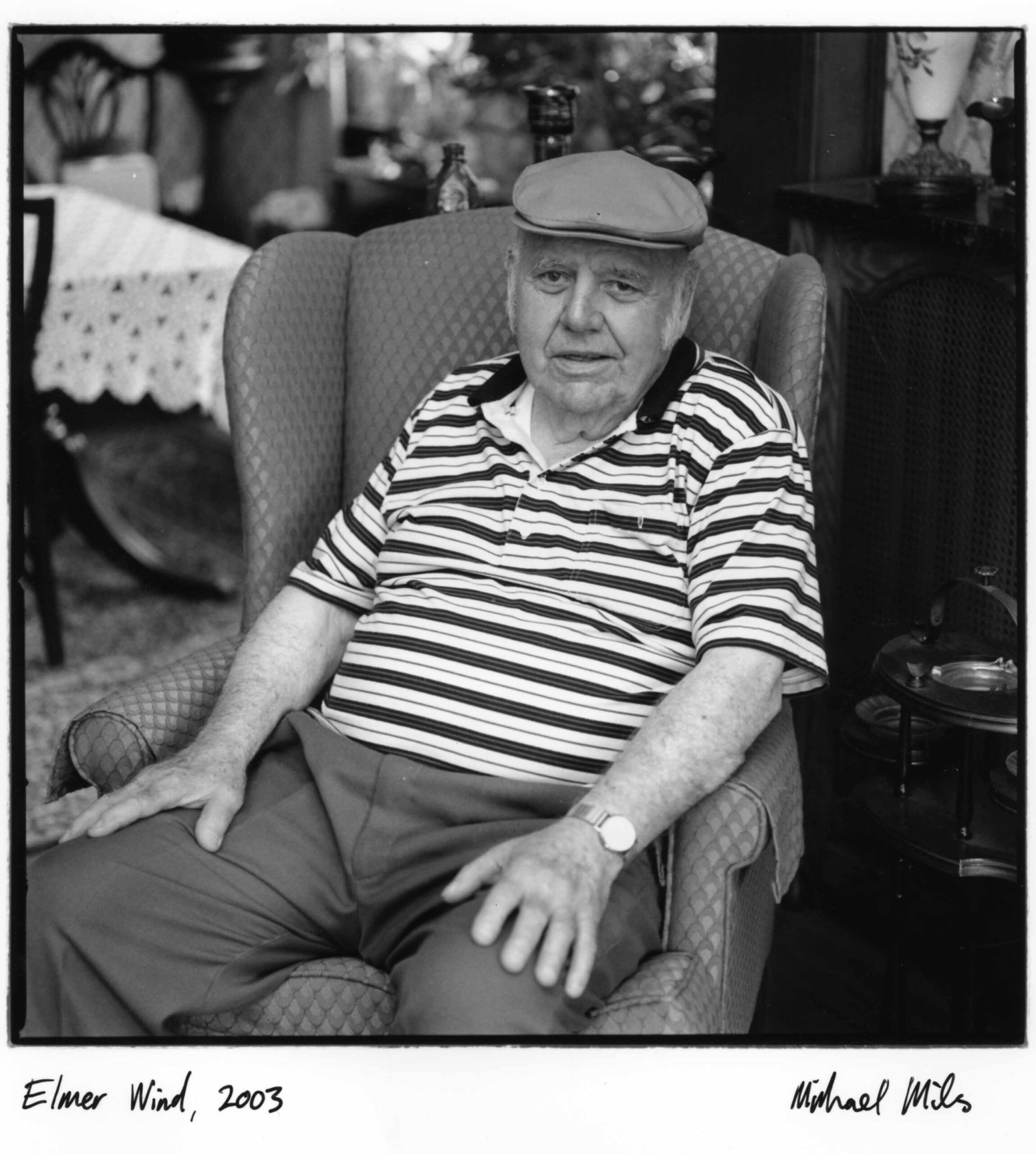 Rest in peace, Elmer, old buddy.  Much thanks to Michael Miles for the photograph of Elmer and thanks to the Route 66 Association of Missouri for the cover image from their magazine.
I hope you have enjoyed this post.  Looks like we're rolling again at 40 South.  Keep your fingers crossed.  Meanwhile…get outside.  It's beautiful!
Doug Houser      November 6, 2023