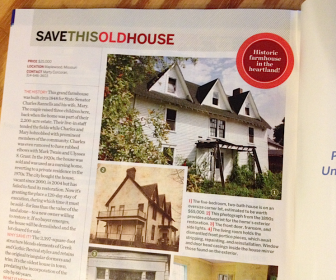 In the end of October, Maplewood resident Doug Houser reported that the 165-year-old Woodside historic Maplewood house was featured in This Old House magazine, online. The magazine is now on the stands, in the November/December issue. Lowes, in Maplewood carries it.
Resident Chrys Kramer contacted This Old House magazine about featuring Woodside, before the city council voted to have it demolished, in a July 30 work session meeting.
The magazine reports that the house is being "granted a 120-day stay of execution, during which time it must be sold—for less than the value of the land alone—to a new owner willing to restore it. If no buyer emerges, the house will be demolished and the lot cleared for sale."
The article states the house is structurally sound but needs all new systems. Woodside is on the corner of Breddell and Folk avenues.