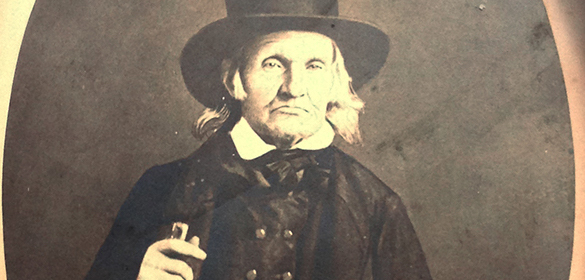 Perhaps 15 years ago I first heard of the existence of a trove of historic images and documents belonging to the Sutton Family.  The information came from a man named Bill Hayes. He was a descendant of James Sutton. I believe he had lived in a house at 7345 Elm when he was a child. This home had once belonged to one of Kate Sutton's daughters.  Kate was herself the daughter of our first pioneer, James C. Sutton. Bill was a fairly old man then. I recently learned that he had passed away probably not long after I had spoken to him. I was not able to view the trove back then.
Recently the ever vigilant Nancy Miner, wife of Doug Miner, editor of 40 South News, discovered and was able to introduce me to the Sutton family descendant who is now the keeper of this trove of Maplewoodiana.  Please understand that I regard this cache of items as a holy grail of Maplewood history. Chrissie Hayes McConnell, Bill's daughter, is now the caretaker of this chunk of her family's and our community's history. She has very generously allowed me to photograph these things. I'll be presenting as many of them to you as I can in my upcoming blog posts.  This is exciting stuff!
William Lyman Thomas and Catherine (Kate) Sutton
Prior to my taking up Maplewood history as a retirement hobby very little of it had been consolidated and even less was remembered.  It was the collection of historic photographs at the Maplewood Public Library and the effort to save Woodside at 2200 Bredell that really drew me into it.
One story that was around and appeared in several places was the story of James C. Sutton.  You may be familiar with it now. Some of the details are that he was the first person of European descent to settle on the land that we now know as Maplewood.  He came from New Jersey in 1819. Went into the blacksmithing business in downtown St. Louis with his brother, John.
He did some iron mongering as well.  Introduced iron plowshares to the area, made iron printer's blocks for the Missouri Gazette, fabricated the locks for the old Spanish jail and so on.  He moved out here to Big Bend and Manchester in 1826 on a large parcel of land that he bought for a dollar and two bits an acre. By 1832 he had a erected a large and commodious mansion at what would someday be known as 7453 Manchester (now, in 2018, the site of a Dobb's Tire store).
As you might expect it would be hard to say whether he was the most honest or the most generous of souls but he was both of these to a fault according to his biographer.  His biographer was none other than William Lyman Thomas. WLT is familiar to most local historians because he wrote a terrific two volume set called The History of St. Louis County in 1911.  He has a good bit to say about James Sutton in it and that is origin of the James Sutton story that was still showing up in various places sixty four years later when I first arrived on the scene in 1975.
William Lyman Thomas also happened to be married to James C. Sutton's daughter, Catherine (Kate) Sutton.  They were married in James' mansion on Mar. 25, 1869. WLT and Kate also lived in what would one day become Maplewood although a better name for it, according to WLT, would have been Sutton.
Fact is if WLT had not included a short bio of his father-in-law, James C. Sutton, in his 1911 History of St. Louis County  (and also in several obits which he most likely wrote) we would know almost nothing at all about this old man, Sutton. Interesting character that Sutton was I have to think that WLT may be the more interesting of the two.
WLT was the editor and publisher of School and Home magazine and the Commercial Gazette, a financial paper.  He also had been a member and treasurer of the Missouri Press Association. Writing was in his blood and he wrote very well.  We'll talk about him in upcoming posts.
James C. Sutton passed away on the 19th of July, 1877.  Curiously Maplewood's other largest property owner and pioneer, Charles S. Rannells, lived just two weeks longer passing on August 4th.  Sutton once owned all of the property that is now Maplewood and more east of Big Bend road. Rannells owned all of the now Maplewood property west of Big Bend and north of Manchester.  Sutton was 80 years old. Rannells just 63. Evidence exists that these two men probably did not like each other. Kris Zapalac, Historic Preservation specialist (now retired) for the Department of Natural Resources, writing in the application to the National Register for Woodside had this to say.
According to witnesses, the men owned by Charles Rannells were often put to work clearing timber under the supervision of Charles and two of his brothers. Not surprisingly, according to one witness in the lawsuit filed by James Sutton over the ownership of a wooded ten-acre parcel, it was often Nathan Rannells, who was listed in the census as a "farmer," who supervised the men:
In March 1855 I saw Nathan Rannells with some negroes just commencing to make a fence on the ground. There was no fence on the ground at that time. I saw Mr Sutton the plaintiff there, & heard him forbid Nathan Rannells to proceed with the fence, That he wanted no fence there. Nathan Rannells replied that it was by the order of his Brother Charles that he was making the fence. 19
More surprising is the fact that Charles' eldest brother, the physician William Rannells, also took his turn:
In 1853 I saw, at different time Defendants negroes cutting the wood on the tract & piling up the brush & in the Spring of 1855 I saw his hands sawing down Post oak trees on this land, making them into posts.. .. I have often seen Defendants Brother then giving directions to Defendants hands whilst they were at work as above stated. When they were at work as above stated in the Spring of 1855 I was present & heard plaintiff say to Defendants Brother William, who was directing the hands at work, that it was his plaintiff's land, & forbid them to cut on said land & that he would hold him and his Brother accountable for all damage done. William Rannells replied – I hope you will not think hard of me as I am employed by my Brother Charles S. Rannells to oversee the hands. 20
This testimony by deposition was apparently persuasive: James Sutton won his lawsuit, reclaiming his ten-acre parcel and collecting damages for harm done to his standing timber.  Kris Zapalac
19 William H. Brown deposition (1 112711 856), Sutton v. Rannells: St. Louis Land Court Oct. Term 1857 #207.
20 Samuel Wells deposition (1 112611 856) and John L. Sutton deposition (1 112711 856), Sutton v. Rannells: St. Louis Land Court Oct. Term 1857 #207.
In 1855 Big Bend Road went no farther north than Manchester.  Later it would extend north along what was the line dividing the farms of Sutton and Rannells.  That road was first called Pennsylvania and then later Big Bend.  DH